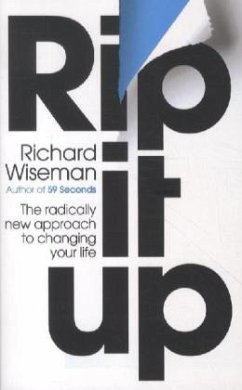 Rip It Up
Broschiertes Buch
Sprache: Englisch
versandkostenfrei

innerhalb Deutschlands

Sofort lieferbar

Alle Preise inkl. MwSt.
*Früherer Preis

-7 %
Andere Kunden interessierten sich auch für
Rip It Up
Introducing a powerful new psychological theory that will transform your life in an instant. Rip up this book and unleash your hidden potential.Most self-help books encourage you to think differently: to think yourself thin, imagine a richer self or to visualize the perfect you. This is difficult, time consuming and often doesn't work. Ripping up the rule book, psychologist Richard Wiseman presents a radical new insight into your body and brain: actions are the quickest, easiest and most powerful way to instantly change how you think and feel. Drawing on a dazzling array of scientific evidence, Professor Wiseman shows how this simple idea can be used to increase motivation, overcome depression, lose weight, stop smoking and even slow ageing. So dont just think about changing your life. Do it. Smile and become happier. Clench your fist and increase your willpower. Put a spring in your step and feel instantly younger
Produktinformation
---
Verlag: Pan Macmillan
2012
Ausstattung/Bilder: 2012. 256 p.
Seitenzahl: 371
Englisch
Abmessung: 216mm x 136mm x 32mm
Gewicht: 420g
ISBN-13: 9780230752078
ISBN-10: 0230752071
Best.Nr.: 35048323
Richard Wiseman, 1966 geboren, studierte Psychologie und war anschließend an verschiedenen Universitäten tätig. Heute leitet er das Forschungszentrum der Psychologischen Fakultät an der Hertfordshire-University. Er hat bereits zahlreiche wissenschaftlichen Arbeiten veröffentlicht. Seine Artikel sind u. a. in "The Times" und "The Guardian" erschienen.
Kundenbewertungen zu "
Rip It Up

" von "Richard Wiseman"
---
Bewertung von Werner L aus Sweden am 30.03.2013
Wiseman offers a nice collection of interesting studies which may be useful in everyday live. However, when it comes to theory it is basically unsound.
Wiseman promotes strongly the as-if principle, an idea going back on old W James. According to Schachter, he put it that way (p 143): "Experiencing an emotion is a 2-step process. First, an event or thought causes your body to jump in action. Second, you then look around and try to work out what caused your body to act in this way."
Behavior causes emotion, or, as James put it (p 18): "You see the bear, your body behaves by starting to run, and your brain decides I'm afraid."
Well, to put it positive, reading the book is fun. Since there is a gorilla hidden all the way. However it seems that Wiseman didn't spot it. If you want to study several aspects of the mereological fallacy, this book in deed is a rich reading.
You can put the bear-thing the other way round: How can you make your brain think of a bear? Well, make your body run like hell, then your brain looks for a reason, thus its quite possible that the picture of a bear will pop up in your brain. Did you spot the gorilla?
Yes, as-if works. I initially wasn't motivated to read the book. So I decided to act as-if. I took a seat, opened the book and acted as-if I was reading, all the way. And the magic did happen: I'd read the book, voila!
Well, you may use the as-if principle as a therapeutic tool, but you should be aware that it is a complete conceptual nonsense. It's actually more the Nike principle that works: Just do it!
---
Sie kennen "Rip It Up" von Richard Wiseman ?

Ein Marktplatz-Angebot für "Rip It Up" für EUR 15,00
Zustand
Preis
Porto
Zahlung
Verkäufer
Rating
Wie neu
15,00
0,00
Banküberweisung
gregorgille
97,8%
ansehen