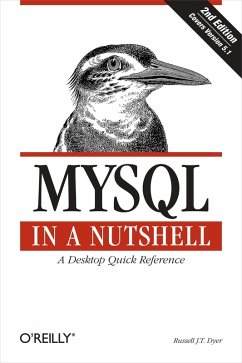 MySQL in a Nutshell
Herausgeber: Oram, Andy
Broschiertes Buch
Sprache: Englisch
versandkostenfrei

innerhalb Deutschlands

Sofort lieferbar

Alle Preise inkl. MwSt.
*Früherer Preis

-12 %
Andere Kunden interessierten sich auch für
MySQL in a Nutshell
MySQL is the world's most popular open source database. MySQL is designed for speed, power, and flexibility in mission-critical, heavy-use environments and modest applications as well. It's also surprisingly rich in features. If you're a database administrator or programmer you probably love the myriad of things MySQL can do, but sometimes wish there wasn't such a myriad of things to remember. With MySQL in a Nutshell by your keyboard, you can drill down into the full depth of MySQL's capabilities quickly and easily.

MySQL in a Nutshell is the indispensable desktop reference to all MySQL functions. Programming language APIs for PHP, Perl, and C are covered, as well as all the popular MySQL utilities.

This invaluable resource clearly documents the details that experienced users need to take full advantage of this powerful database management system. Better yet, this wealth of information is packed into the concise, comprehensive, and extraordinarily easy-to-use format for which the in a Nutshell guides are renowned.

In addition to providing a thorough reference to MySQL statements and functions, the administrative utilities, and the most popular APIs, MySQL in a Nutshell includes several tutorial chapters to help newcomers get started. Moreover, each chapter covering an API begins with a brief tutorial so that, regardless of your level of experience in any given area, you will be able to understand and master unfamiliar territory.

MySQL in a Nutshell distills all the vital MySQL details you need on a daily basis into one convenient, well-organized book. It will save you hundreds of hours of tedious research or trial and error and put the facts you need to truly tap MySQL's capabilities at your fingertips.

When you need to find the right SQL keyword or MySQL client command-line option right away, turn to this convenient reference, known for the same speed and flexibility as the system it covers so thoroughly. MySQL is packed with so many capabilities that the odds of remembering a particular function or statement at the right moment are pretty slim. With MySQL in a Nutshell, you get the details you need, day in and day out, in one concise and extremely well organized book.

The new edition contains all the commands and programming information for version 5.1, including new features and language interfaces. It's ideal for anyone using MySQL, from novices who need to get up to speed to advanced users who want a handy reference. Like all O'Reilly Nutshell references, it's easy to use and highly authoritative, written by the editor of the MySQL Knowledge Base at MySQL AB, the creator and owner of MySQL.

Inside, you'll find:
* A thorough reference to MySQL statements, functions, and administrative utilities
* Several tutorial chapters to help newcomers get started
* Programming language APIs for PHP, Perl, and C
* Brief tutorials at the beginning of each API chapter to help anyone, regardless of experience level, understand and master unfamiliar territory
* New chapters on replication, triggers, and stored procedures
* Plenty of new examples of how MySQL is used in practice
* Useful tips to help you get through the most difficult subjectsWhether you employ MySQL in a mission-critical, heavy-use environment or for applications that are more modest, this book puts a wealth of easy-to-find information at your fingertips, saving you hundreds of hours of trial and error and tedious online searching. If you're ready to take advantage of everything MySQL has to offer, MySQL in a Nutshell has precisely what it takes.
Produktinformation
---
Verlag: O'Reilly Media
2008
2nd ed.
Ausstattung/Bilder: 576 p.
Seitenzahl: 564
Englisch
Abmessung: 227mm x 152mm x 31mm
Gewicht: 770g
ISBN-13: 9780596514334
ISBN-10: 0596514336
Best.Nr.: 23117236
Russell Dyer has worked full-time for several years as a free-lance writer of computer articles, primarily on MySQL. He has been working with MySQL ABas the editor of their new Knowledge Base since December 2004. He has published over ninety articles for several magazines.
2 Marktplatz-Angebote für "MySQL in a Nutshell" ab EUR 8,90