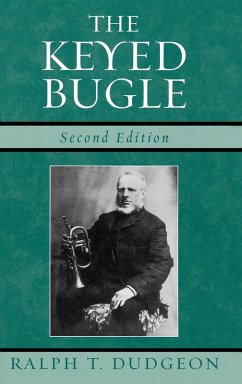 The Keyed Bugle
Gebundenes Buch
Sprache: Englisch
versandkostenfrei

innerhalb Deutschlands

Versandfertig in über 4 Wochen

Alle Preise inkl. MwSt.
Andere Kunden interessierten sich auch für
The Keyed Bugle
This work is the definitive source for information on the keyed bugle's history, literature, and technique. Chapters consist of: The Keyed Bugle in Europe, The Keyed Bugle in the United States, The Revival, Methods, Literature, Performance Practice, Performers, Makers and Sellers, and a final chapter on Acoustics Construction Styles. The book includes a bibliography, index, 71 illustrations and over 25 pages of musical examples.
Produktinformation
---
Abmessung: 223mm x 144mm x 32mm
Gewicht: 558g
ISBN-13: 9780810851238
ISBN-10: 0810851237
Best.Nr.: 14091657
This much-improved edition replaces the former one. Highly Recommended. CHOICE Ralph Dudgeon's The Keyed Bugle provides a clear picture of the instrument's history, repertoire and technique...This beautifully presented edition contains a wealth of information about the original design and development of the keyed bugle and its use in Europe and the United States, along with many fascinating and often amusing pictures...It is clear from page one that Ralph Dudgeon has done a vast amount of research and uncovered a wealth of information...The Keyed Bugle is the definitive book on the subject and I strongly recommend that every brass player and those with an interest in the history of brass reads this book... The Brass Herald ...an outstanding study of practically everything that is known about the instrument and its use in Western music culture. You will want the new edition because so much has been added and revised. First editions may often be collectors' items, but in this case, because of the strength of the additions and revisions, the second edition will certainly be the definitive work for scholars and collectors alike...this edition adds a wonderful amount of useful information...What was a fine study of the instrument has become, I believe, a classic work among the writings about individual instruments. Historic Brass Society Journal ...a considerable expansion of the first edition of 1993...the book is infinitely better than the earlier edition...a strong narrative and striking illustrations make this a difficult book to put down. The Galpin Society Journal ...a wealth of information that will inform all readers of the rich music history that is associated with this instrument...This book belongs in the library of any music educator looking for greater knowledge of wind literature and history...the definitive work on the keyed bugle. Music Educators Journal (MENC), Vol. 93 No. 1, September 2006 This second edition of a definitive work on the keyed bugle includes an enlarged performance practice section for beginning students, plus new listings of performers, makers, and sellers of key bugles. There are new chapters on the acoustics of keyed bugles and on bugle manufacturing at specific firms. The book provides collectors, performers, and students with a clear picture of the instrument's history, repertoire, and technique. Reference and Research Book News
Ralph T. Dudgeon promovierte 1981 im Fach Musikwissenschaften an der University of California, San Diego. Er ist Professor für Musik an der State University of New York College at Cortland und wissenschaftlicher Berater des Musikinstrumentenmuseums Schloss Kremsegg im oberösterreichischen Kremsmünster. Neben seiner Lehrtätigkeit ist Dudgeon weltweit als Solist mit dem Flügelhorn zu hören.