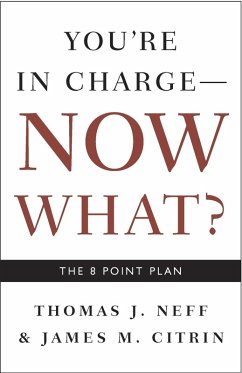 You're in Charge - Now What?
The 8 Point Plan
With Catherine Fredman
Broschiertes Buch
Sprache: Englisch
versandkostenfrei

innerhalb Deutschlands

Sofort lieferbar

Alle Preise inkl. MwSt.
Andere Kunden interessierten sich auch für
You're in Charge - Now What?
Two career and business experts share their eight-point plan on how to succeed in a new job or project, offering helpful guidelines on leadership, decision-making skills, interpersonal relationships, and other key aspects of the corporate environment.

When you start a new job, you are in a 'temporary state of incompetence' faced with having to do the most when you know the least. Tom Neff and Jim Citrin, two of the world's experts on leadership and career achievement, know what it takes to succeed in a new position. Through compelling, first-hand stories, from CEOs like Jeffrey Immelt of GE and Bob Eckert of Mattel, You're in Charge - Now What? offers an eight-point plan to show you how to lay the groundwork for long-term momentum and great performance.
Produktinformation
---
Abmessung: 202mm x 134mm x 18mm
Gewicht: 230g
ISBN-13: 9781400048663
ISBN-10: 1400048664
Best.Nr.: 21093725
Thomas J. Neff is chairman of Spencer Stuart U.S. and a member of the firm's worldwide board of directors. Hailed by the Wall Street Journal as 'the number one brand name in CEO searches', he has been profiled on the cover of Business Week and the Money and Business section of the New York Times.
Table of Contents:
- Introduction
- The First Steps: Aligning Expectations
- No One Can Do It Alone: Shaping Your Management Team
- Crafting Your Strategic Agenda
- Culture Is the Game: Starting to Transform the Corporate Culture
- Answering to a Higher Authority: Establishing a Productive Working Relationship with Your Boss (or Board)
- Communication: The Key to Implementing Your Agenda
- Resisting Temptation: Avoiding the Top Ten Traps for New Leaders
- CONCLUSION Next Step to Enduring Success---The Next Hundred Days
- APPENDIX The Spencer Stuart 8 Point Plan for the First Hundred Days
- Gary Kusin's First Hundred Day Plan for Kinko's
- "On Becoming an Associate''
- Bibliography
- Acknowledgments
- Index