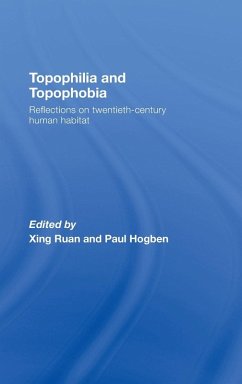 Topophilia and Topophobia: Reflections on Twentieth-Century Human Habitat
Herausgeber: Ruan, Xing; Hogben, Paul
Gebundenes Buch
Sprache: Englisch
versandkostenfrei

innerhalb Deutschlands

Versandfertig in über 4 Wochen

Alle Preise inkl. MwSt.
Andere Kunden interessierten sich auch für
Topophilia and Topophobia: Reflections on Twentieth-Century Human Habitat
'Topophilia and Topophobia' offers timely reflections on the human habitat in the 20th century. The expression of topophilia and topophobia belong to our time, an ambivalence between the love and aversion for a place has been a recurrant paradox in human history.

This book offers timely reflections on the human habitat in the twentieth century. What distinguishes human habitat is not the size and complexity of our buildings but our ability to reflect on what we do and our ambivalence about our affinity to – as well as detachment from – the soil and the terrain we occupy. Though the expressions topophilia and topophobia belong to our time, an ambivalence between the love of a place and aversion from it has been a recurrent paradox in human history. The paradox has never been as striking as in the twentieth century, which is the reason for a comprehensive reflection of the human habitat on the century that has just past.

Human habitat, ranging broadly from the cities of the twentieth century, highbrow modern architecture both in Western countries and in Asia, to non-architect/planner designed vernacular settlements will be thematically reviewed under the frame of topophilia and topophobia, with philosophical musings as well as meticulous case studies.

Table of contents:
Architectural Enclosure: A Prologue to Topophilia and Topophobia 'Xing Ruan and Paul Hogbennbsp;nbsp;'1. Topo-philia and -phobia 'Joseph Rykwertnbsp;nbsp;'2. Time, Space, and Architecture: Some Philosophical Musings 'Yi-fu Tuannbsp;nbsp;'3. Topophilia/Topophobia: The Role of the Environment in the Formation of Identity 'Neil Leachnbsp;nbsp;'4. Heterotopias and Archipelagos: The Shape of Modern Topophobia 'Jean-Louis Cohennbsp; '5. Agreement and Decorum: Conversations within the Architecture of Louis Kahn 'Peter Kohane'nbsp;nbsp;6. The Character of a Building: Paul Cret's Human Analogy, Louis Kahn and Yang Tingbao 'Xing Ruannbsp;nbsp;nbsp;'7. Potential Places, Places of Potentiality: Levitation and Suspension in Modern Italian Architecture 'Ross Jennernbsp;nbsp;'8. Transparency in the Contemporary Australian House 'Harry Margalit'nbsp; 9. The Voyage and the House: Bernard Rudofsky's Search for Place 'Alessandra Como'nbsp;nbsp;Chapter 10: Hot Springs, Geysers and Animated Matter 'Sarah Treadwellnbsp; '11. Not Another Waikiki? Mobilizing Topophilia and Topophobia in Coastal Resort Areas 'Daniel O'Harenbsp;' 12. Economy and Affect: People-Place Relationships and the Metropolis 'Peter Murphy' 13. Epilogue: The Architectural Project as Dialogue 'Vittorio Gregotti'nbsp;
Produktinformation
---
Verlag: ROUTLEDGE CHAPMAN & HALL
2008
Ausstattung/Bilder: 272 p. - 82 b/w ill., 6 b/w Line drawings - 234 x 156 mm
Seitenzahl: 232
Englisch
Abmessung: 232mm x 163mm x 17mm
Gewicht: 540g
ISBN-13: 9780415403238
ISBN-10: 0415403235
Best.Nr.: 23818496
Xing Ruan is Professor of Architecture at the University of New South Wales and is the author of Allegorical Architecture (2006) and New China Architecture (2006). He has published on a wide range of topics concerning legible relations between humans and the built world in some of the world s leading scholarly journals, as well as professional magazines in China and Australia. Paul Hogben is a lecturer in architecture at the University of New South Wales. His research focuses on promotional politics and the discourse of architecture over the twentieth century. This research has been published in Architectural Theory Review and Fabrications, the journal of the Society of Architectural Historians, Australia and New Zealand.
Inhaltsangabe
Architectural Enclosure: A Prologue to Topophilia and Topophobia Xing Ruan and Paul Hogben 1. Topo-philia and -phobia Joseph Rykwert 2. Time
Space
and Architecture: Some Philosophical Musings Yi-fu Tuan 3. Topophilia/Topophobia: The Role of the Environment in the Formation of Identity Neil Leach 4. Heterotopias and Archipelagos: The Shape of Modern Topophobia Jean-Louis Cohen 5. Agreement and Decorum: Conversations within the Architecture of Louis Kahn Peter Kohane 6. The Character of a Building: Paul Cret's Human Analogy
Louis Kahn and Yang Tingbao Xing Ruan 7. Potential Places
Places of Potentiality: Levitation and Suspension in Modern Italian Architecture Ross Jenner 8. Transparency in the Contemporary Australian House Harry Margalit 9. The Voyage and the House: Bernard Rudofsky's Search for Place Alessandra Como Chapter 10: Hot Springs
Geysers and Animated Matter Sarah Treadwell 11. Not Another Waikiki? Mobilizing Topophilia and Topophobia in Coastal Resort Areas Daniel O'Hare 12. Economy and Affect: People-Place Relationships and the Metropolis Peter Murphy 13. Epilogue: The Architectural Project as Dialogue Vittorio Gregotti