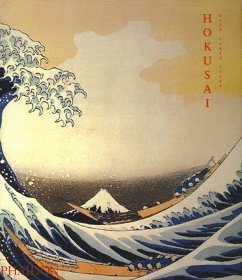 Hokusai
Ed. by Gian C. Calza
Broschiertes Buch
Sprache: Englisch
Weihnachts-Garantie: Jetzt bestellt - rechtzeitig geliefert!
versandkostenfrei

innerhalb Deutschlands

Sofort lieferbar

Alle Preise inkl. MwSt.
Andere Kunden interessierten sich auch für
Hokusai
Katsushika Hokusai (1769-1849) was one of the greatest of the Japanese print designers, painters and book illustrators, and by far the most famous Asian artist in the West. This richly illustrated monograph provides an overview of the master's life and works in all media. Comprising introductory essays, seven chapters embracing Hokusai's entire career and some 700 illustrations, it presents and analyses a large selection of Hokusai's finest works in all media, covering his whole career and giving a scholarly and up-to-date interpretation of the artist and his significance. This big and beautiful book presents a comprehensive survey of the work of one of Japan's greatest and most influential artists, together with a collection of essays that focus on a key aspects of the master's career. The book opens with an introductory essay by Gian Carlo Calza presenting an overview of the changing world Hokusai was born into and lived through. This is followed by a series of essays by distinguished Western and Japanese scholars that present new research on a range of crucial areas of interest in Hokusai studies. These provide a context for the core of the book, which forms a retrospective of H
Produktinformation
---
Verlag: Phaidon, Berlin
2010
repr.
Ausstattung/Bilder: repr. 2010. 520 p. w. numerous ill. (mostly col.).
Seitenzahl: 520
Englisch
Abmessung: 291mm x 253mm x 36mm
Gewicht: 2525g
ISBN-13: 9780714844572
ISBN-10: 0714844578
Best.Nr.: 12959547
| | |
| --- | --- |
| | Besprechung von 21.11.2006 |
---
Der Unerschöpfliche
"Hokusai: ein Universum" hat Gian Carlo Calza, Professor für ostasiatische Kunst in Venedig, zu Recht seine Einleitung zu diesem Prachtband überschrieben, der den berühmtesten Künstler Japans umfassend präsentiert (Gian Carlo Calza: Hokusai. Phaidon Verlag, Berlin 2006, 520 Seiten, 95 Euro). Wer sich in diese einzigartige Welt einer überbordenden, dabei so genau beobachtenden wie poetisch inspirierten Bildphantasie begibt, dem werden die Augen übergehen.
Katsushika Hokusai (1760-1849), der mit zunehmendem Alter nicht etwa nachließ, sondern mehr produzierte und im Nachwort zu seinen "Hundert Ansichten des Berges Fuji" von sich erwartete, dass "mit hundertundzehn jeder Punkt und jeder Strich, den ich zeichne, zum Leben erwachen wird", Hokusai hat Leben und Treiben in Japan nahezu vollständig ins Bild gebracht. Das sind selbstverständlich nie Abbilder, sondern in all seinen Lebensphasen, die in ihrer Stilverschiedenheit von Kennern gut dargestellt werden, hat Hokusai das Gesehene seiner unerschöpflich variatonsreichen Kunst anverwandelt. In seiner so bezeichneten Taito-Periode, 1810 beginnend, erschienen auch die meisten seiner …


---
'This beautiful monograph, a seriously weighty tome, not only provides a comprehensive overview of Hokusai's work but also analyses his influence on Western artists. Immaculately reproduced artwork combined with research from both Western and Japanese scholars as well as intelligent commentary accompanying each of the amazing illustrations make this book worth every last penny.' (Creative Review) 'Gives us a true idea of the great range of Hokusai's work and its enormous variety ... the finest of the new publications on Hokusai.' (Donald Richie, The Japan Times) 'As the hundreds of plates in this book attest, Hokusai's work has a breadth and versatility that might surprise those who know the artist principally for those seemingly endless depictions of Tokyo's celebrated conical volcano.' (World of Interiors) 'Comprehensive and splendidly illustrated ... It is such a visually stimulating read that this has to be the art book I would most like to find under the Christmas tree.' (Frank Whitford, The Sunday Times, November) 'Superb reproductions make this probably the best introduction to this artist you can find.' (Wall Street Journal Europe) 'Great care has been taken throughout to choose for reproduction the best preserved original prints that reveal Hokusai's mastery of line and colour to full advantage ... A must for the library of anyone interested in Japanese art, and once again Phaidon must be praised for publishing another artist's work in such detail.' (County Times)
Gian Carlo Calza is Professor of East Asian Art at the University of Venice, and Director of the International Hokusai Research Center in Milan. A distinguished authority on Hokusai and Japanese art, he has published many books, exhibition catalogues and articles in this field, and is currently preparing a catalogue raisonne of Hokusai's paintings. He was awarded the 2004 Uchiyama Prize by the International Ukiyo-e Society of Tokyo for his contribution to the study of Japanese ('Floating World') culture. Roger S. Keyes is Visiting Professor in the History of Art at Brown University, an Associate in Research at the Edwin O. Reischauer Institute of Japanese Studies at Harvard University, and Director of the Center for the Study of Japanese Prints. Matthi Forrer is Curator of the Japanese Department at the National Museum of Ethnology, University of Leiden John. M. Rosenfield is Professor Emeritus of East Asian Art, Harvard University, and Curator of Asian Art at the Harvard University Art Museum. Richard Lane is an Independent scholar. Asano Shugo is Chief Curator of the Municipal Museum of Art, Chiba. Tsuji Nobuo is Rector of Tama University of Fine Arts, Tokyo, and Emeritus Professor of East Asian Art at the University of Tokyo. Kobayashi Tadashi is Director of the Municipal Museum of Art, Chiba, and Professor of East Asian Art History at the University Gakushuin of Tokyo.