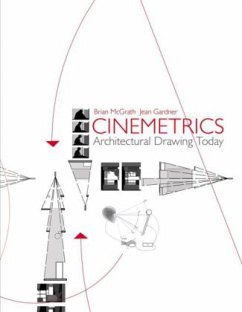 Cinemetrics
Architectural Drawing Today
Gebundenes Buch
Sprache: Englisch
versandkostenfrei

innerhalb Deutschlands

Versandfertig in über 4 Wochen

Alle Preise inkl. MwSt.
Andere Kunden interessierten sich auch für
Cinemetrics
This is the first textbook for architectural drawing with the computer that is based on understanding how digital drawing fundamentally differs from drawing with lead pencils on drafting boards. Cinemetrics: Architectural Drawing Today demonstrates a cinematically-inspired, cybernetically imaged, architectural drawing system for thinking about architecture as embedded in relationships within the world at large. It opens up the possibility of inventing new ways of building as framing flowing matter in order to live a philosophy of 'newness'.

This book provides a simple but comprehensive framework for architectural drawing using the computer.
Cinemetics is an exciting demonstration of a cinematically-inspired, cybernetically-based, architectural drawing system, which embeds architecture in relationships within the world at large. It is the first guidebook for architectural drawing with the computer based on an understanding of how digital drawing fundamentally differs from drawing with mechanical pencils on drafting boards. This book opens up new ways of seeing architecture as framing flowing matter, enabling a philosophy of 'newness'. Operationally, computers, based on cybernetic circuits, are radically transforming not only architectural drawing procedures but also the human sensory-motor schema. Thinking in circuits is replacing perspectival picturing with its illusion of self-sufficiency, making past assumptions about buildings as self-contained objects obsolete. The authors - fifteen-year collaborators in teaching architectural students - link illustrations and text to research in media studies, biology, ecology and philosophy.
Cinemetrics assumes that digital technologies are the everyday experience of today's media-saturated public. It takes you through a process of losing perspectival picture-making and generating space through cybernetic duration. Architectural drawing is reconceived as a multidimensional information system rather than static image-making. Aimed at students, teachers and professionals, this book provides a simple and accessible framework for learning how to position architecture within current life-supporting initiatives.
This is not a software book, but applied theory based in sensori-motor experience. Technical advice in architectural drawing, 3D modelling, animation and digital editing is offered. Pointers are provided for the accumulation of skills in architectural drawings. Presented are drawings that move literally and figuratively. Cinemetrics is a book that challenges readers intellectually and physically, as it requires you to turn the page and reorientate the reading of the book around the illustrations. Here drawings speak more eloquently than words about the projective experience of architecture.
Produktinformation
---
Verlag: Wiley & Sons
2010
1. Auflage
Ausstattung/Bilder: 1. Auflage. 2007. 272 S. 279 mm
Seitenzahl: 271
Best.Nr. des Verlages: 14502669000
Englisch
Abmessung: 279mm x 220mm x 23mm
Gewicht: 1058g
ISBN-13: 9780470026694
ISBN-10: 0470026693
Best.Nr.: 22851544
"[The book] reminds us that architecture is experienced not only in exquisite moments...but also in time and memory".The Journal of Architectural Education May 2008
Brian McGrath is an architect and co-founder of urban-interface, which explores relationships between urban design, ecology and multi-media. McGrath teaches at Columbia and Parsons in New York City and Chulalongkorn University in Bangkok. He was a Senior Fulbright Scholar in Thailand in 1998/99 and is currently a co-investigator with the Baltimore Ecosystem Study and is a New School Faculty Fellow with the India China Institute. Jean Gardner is Senior Faculty, Department of Architecture, Interior Design and Lighting, Parsons. Her course 'Issues and Practices in Architecture and Urbanism' received special recognition in the 2005 National AIA Ecological Literacy Initiative. Co-chair of the ACSA Task Force on Sustainable Design, she helped organise 'Sustainable Pedagogies and Practices', the 2003 ACSA/AIA Teachers' Seminar. With The Rockwell Group, she exhibited 'the Hall of Risk', 2002 Venice Biennale.
Inhaltsangabe
INTRODUCTION LOSING PERSPECTIVE, FINDING DURATION

- What happens when architectural drawing leaves the drawing board and moves to the computer screen?

CHAPTER 1 FRAMING

- What happens when movements are not in space and images not in our brains?

CHAPTER 2 IMMOBILE CUTS

- How can we develop an architectural drawing system fro the intervals in matter-flux?

CHAPTER 3 SHOOTING

- What happens when we relate movement, not to privileged poses, but to any-instant-whatever?

CHAPTER 4 MOBILE SECTIONS

- How can we generate architectural spaces through drawing any-instant-whatever?

CHAPTER 5 ASSEMBLING

- What happens when the sensori-motor schema breaks down and perceptions no longer result in action?

CHAPTER 6 CYBERNETIC SEEDS

- How can we generate space as seeds of different worlds in the making?

POSTSCRIPT PROLOGUE TO WHAT IS POSSIBLE

- Keywords

- Bibliography

- Index