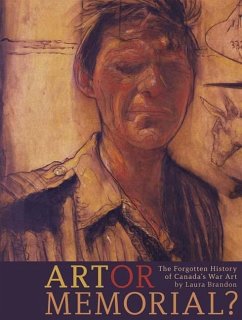 Art or Memorial?: The Forgotten History of Canada's War Art
Broschiertes Buch
Sprache: Englisch
versandkostenfrei

innerhalb Deutschlands

Versandfertig in über 4 Wochen

Alle Preise inkl. MwSt.
Andere Kunden interessierten sich auch für
Art or Memorial?: The Forgotten History of Canada's War Art
The Canadian War Museum possesses one of the finest twentieth-century official war art collections in the world. Until relatively recently, however, the collection has received limited public attention. In Art or Memorial?, author Laura Brandon explores some of the reasons why this may have been the case. At various times throughout its history, the war art collection has receded from and re-emerged in the nation's collective consciousness. Nevertheless, as an invaluable part of the official record of war in Canada, it is profoundly significant. Brandon argues that the value of the collection lies less in its artistic merit and more in its role as a site of memory. Art or Memorial? seeks to illuminate Canadian war art's sometimes-hidden presence in the nation's memory and to show, through both its presence and its absence, how it helped to shape, and will continue to influence, how we remember as a nation.
Produktinformation
---
ISBN-13: 9781552381786
ISBN-10: 1552381781
Best.Nr.: 22141952
Laura Brandon is the Curator of War Art for the Canadian War Museum in Ottawa. She earned her PhD in History from Carleton University.
Inhaltsangabe
Introduction. The Best-Laid Plans? Politics &amp
the Memorial Art Gallery. Sculpting a New Canada at Vimy. Painting &amp
Forgetting: The Group of Seven's War Art. Religion &amp
Ottawa's War Art. Telling Details: Maurice Cullen &amp
Gyrth Russell. Changing Attitudes to War Since 1945. Build-up to the Fiftieth. Responding to 1995: Reconsidering Aba Bafesky &amp
Pegi Nicol MacLeod. Creating Canvas of War, Restoring the Vimy Sculptures. Answering Visitors' Comments: Alex Colville &amp
Jack Nichols. Tangled Web: DND, the War Museum, &amp
CAFCAP, 1968-95. Conclusion.