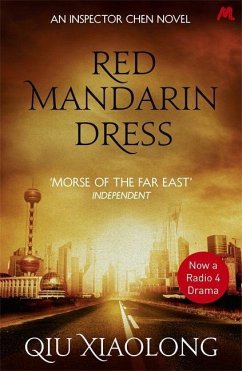 Red Mandarin Dress\Blut und rote Seide, englische Ausgabe
Broschiertes Buch
Sprache: Englisch
versandkostenfrei

innerhalb Deutschlands

Versandfertig in über 4 Wochen

Alle Preise inkl. MwSt.
Andere Kunden interessierten sich auch für
Red Mandarin Dress\Blut und rote Seide, englische Ausgabe
An early morning jogger found her. Clad in nothing but a red mandarin dress, she had been dumped on a traffic island. The death of a 'dancing girl' was unpleasant but only unusual in that she had been left so openly in the centre of town. She had probably angered one of the 'Mr Big Bucks' who were taking over and transforming Shanghai.

Inspector Chen is an intuitive investigator, a talented poet and an honourable man on the edge of a nervous breakdown. Desperate to find a way out of the perilous police career that had been chosen for him, he is on leave. Then another girl is found dead. With a serial killer on the loose, Chen is pulled back to work and into his most dangerous assignment yet.
Produktinformation
---
Verlag: Sceptre
2008
New ed.
Ausstattung/Bilder: New ed. 2011. 310 p.
Oberinspektor Chen Vol.5
Englisch
Abmessung: 10mm x 130mm x 194mm
Gewicht: 210g
ISBN-13: 9780340935187
ISBN-10: 0340935189
Best.Nr.: 23531963
'[Xiaolong] vividly details the human cost of a city (the new consumer crazy Shanghai) devouring itself ... Yet even in these dangerous surroundings, culture and beauty endure and an honest man can still chart a path for good, no matter how perilous' -- Economist 'The creation of Inspector Chen Cao of the Shanghai Police Bureau is a very successful addition to the detective genre ... a fresh, fast-paced detective thriller that will keep you turning those pages' -- Sunday Express 'Atmospheric and rich in behind the scenes detail, Qiu Xiaolong's mysteries pit the poetry-loving Inspector Chen of Shanghai against criminality and corruption in the new China ... Morse of the Far East' -- Independent 'Qiu gives a fresh perspective on the forces shaping a new China and the influences of the Cultural Revolution and then Tiananmen in 1989.' -- Sunday Morning Post, Hong Kong 'A luminescent synthesis of thriller and literary novel' -- Independent on A LOYAL CHARACTER DANCER 'Stupendous' -- Fresh Air, National Public Radio, USA on DEATH OF A RED HEROINE 'With strong and subtle characterisation, Qui Xiaolong draws us into a fascinating world where the greatest mystery revealed is the mystery of present-day China itself.' -- John Harvey 'Compelling ... this fast-moving crime novel admirably depicts the intriguing struggles of characters grasping a foothold in a new and rising China.' -- TLS on A CASE OF TWO CITIES 'A great read.' -- Guardian on WHEN RED IS BLACK 'Chen is an irresistible protagonist ... Qiu's portrait of China in transition, a potential eye-opener for many of his Western readers, is an equally compelling attraction.' -- Kirkus Reviews on DEATH OF A RED HEROINE 'A vivid portrait of modern Chinese society ... full of the sights, sounds and smells of Shanghai ... A work of real distinction.' -- Wall Street Journal 'A great read' -- Weekend Australian on DEATH OF A RED HEROINE 'In a word: brilliant' -- Herald Sun on DEATH OF A RED HEROINE 'Chen is a great creation, an honourable man in a world full of deception and treachery' -- Guardian "fascinating and essential reading... Chen is a delightful and humane guide." -- Reviewing the Evidence 20080331
Qiu Xiiaolong wurde 1953 in Shanghai geboren. Er arbeitete als Übersetzer, Lyriker und Literaturkritiker. 1988 reiste er in die USA und kehrte nach dem Massaker am Tiananmen Platz nicht nach China zurück. Seit 1994 lehrt er an der Washington Universität St. Louis chinesische Literatur und Sprache.