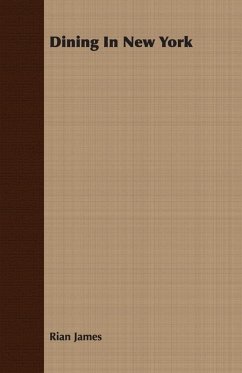 Dining in New York
Broschiertes Buch
Sprache: Englisch
versandkostenfrei

innerhalb Deutschlands

Versandfertig in über 4 Wochen

Alle Preise inkl. MwSt.
Andere Kunden interessierten sich auch für
Dining in New York
Gastronomical Map of Manhattan turn the pages for tempting details DINING IN NEW YORK CA conscientious and intimate guide to 125 of the best and most interesting restaurants in and near New York, with pointed suggestions, necessary cautions, and some uncommon recipes. C Indicating the price range, whos who, whats what and how to get there. C Cross - indexed by localities, national origin, type of entertain- ment, etc. C And also a concise list ofnumerous additional restaurants. 1930, ABOUT THE AUTHOR Rian James . . . born in Eagle Pass, Texas, October third, 1899 ... his first newspaper job was writing a column for a Massachusetts weekly ... he was fired because he couldnt spell Massachusetts ... as aviator, advertising writer, soldier, reporter, war correspondent and feature syndicate salesman he has visited 31 countries ... he thinks that Paris would be the nicest city in the world if only so many people didnt speak French there ... he writes by lamp light on the brightest day and would rather walk a mile than use the tele- phone ... he never shaves in the morning because he doesnt get up that early . . . four years ago he made his twenty-sixth parachute jump because somebody told him that no one had ever made more than twenty-five safely ... he has never smoked a cigar, eaten spinach or worn spats ... he never for- gets anumber, or remembers anything else ... he once won a bronco-busting contest at Madison Square Garden, and still claims that he spent the next four days in bed because he had a cold ... he has suffered broken ribs fourteen times doing stunts for the movies, and thinks there should be a law against everything that is against anything ... he prefers blondes, brunettesand red heads, alternately, and thinks that when greater comedians are made theyll all be named Fred Allen ... his weaknesses are airplanes, Coca Colas with a dash of lime and head waiters named George ... he hates making speeches and when he has to always sends a last-minute telegram to the effect that he has just broken his leg ... his favorite author is Oscar Wilde and he would rather read vii poetry than write it ... he never attends a sad . . . play he gets seasick in anything smaller than the Leviathan ... he believes in the number 9 and would walk around the block rather than permit a black cat to cross his path ... he never appears after six in the evening without a walking stick and wouldnt be found dead with one before that ... he believes that slang is the shortest distance between two points and prefers playing postoffice to bridge ... he likes going places and doing things and will risk his neck cheerfully if he can get a paragraph of copy out of it ... he notes most of his columnar material on the backs of menus and old envelopes, which he invariably loses ... he believes that soda mint tablets are good for everything but appendicitis ... he never carries a pencil and will walk out on a party rather than sit facing a mirror . . . hed rather be gray at the temples than president . . . and he collects first editions, of which he has more than 2,000 . . . miniature elephants, of which he keeps more than thirty on his desk alone, and hotel keys ... his favorite hates are people who telephone in the morning, facetious radio announcers, and horses that come in fourth, fifth and sixth . . . he has never intentionally written anything to hurt anybody and he would rather haveBernard Shaws sense of humor than Rockefellers share of Socony ... his pet aversion is water- cress .....
Produktinformation
---
Verlag: DODO PR
2007
Seitenzahl: 280
Englisch
Abmessung: 216mm x 140mm x 16mm
Gewicht: 358g
ISBN-13: 9781406783476
ISBN-10: 1406783471
Best.Nr.: 23244034