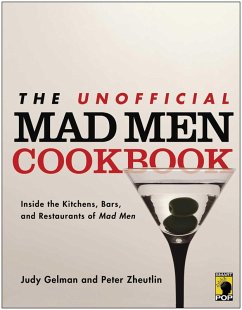 The Unofficial Mad Men Cookbook
Inside the Kitchens, Bars, and Restaurants of Mad Men
Broschiertes Buch
Sprache: Englisch
versandkostenfrei

innerhalb Deutschlands

Sofort lieferbar

Alle Preise inkl. MwSt.
Andere Kunden interessierten sich auch für
The Unofficial Mad Men Cookbook
An illustrated culinary guide to "Man Men" with more than 60 recipes that show how to dine like Draper and drink like Sterling.
Produktinformation
---
Verlag: Perseus Books
2012
Ausstattung/Bilder: 2011. 260 p. 9.50 in.
Englisch
Abmessung: 17mm x 180mm x 229mm
Gewicht: 610g
ISBN-13: 9781936661411
ISBN-10: 1936661411
Best.Nr.: 33327867
"Border[ing] on culinary anthropology . . . the cookbook offers an exhaustive history of New York dining in the 1960s, right down to the actual recipes used in Draper haunts like Sardi's and The Grand Central Oyster Bar." --"Associated Press" "Part cookbook, part annotated episode guide, this entertaining read has everything the die-hard "Mad Men" fan needs to host a fantastic cocktail party." --"Library Journal" "As fun as the book is, Gelman and Zheutlin offer solid, well-researched recipes that can be confidently served to guests." --"Publishers Weekly" "A culinary love letter to the award-winning drama." --"The Boston Herald" ""Mad Men" isn't all about booze-swilling: There are also meals--plenty of meals. This stylish cookbook offers recipes for food that appears on the show, whether it's Betty's Turkey Tetrazzini or Sal's Spaghetti and Meatballs." --"AM New York" "Surprisingly informative . . . It becomes clear that all the meals and snacks prepared, consumed, offered, and rejected on the series tell a story. . . Use the book as a primer for seasons 1 through 4 while you wait impatiently, bowl of homemade Chex Mix close at hand, for season 5 to air at long last." --"Bookforum" "[I]t is obvious that I would greet the [Unofficial] Mad Men Cookbook with extravagant enthusiasm. And I couldn't resist [the] recipe for cream cheese and nut balls--the perfect appetiser for your suitably retro cocktail hour." --Nigella Lawson "Beautifully put together . . . it has a retro feel with a touch of timelessness . . . a must-have for any "Mad Men" fan." --"Columbus Ledger-Enquirer" "A treat! It's like going back to our parents' time and childhood with a very different eye in terms of where we are in the culinary world today. A fascinating culinary time warp." --Evan Kleiman, Good Food, KCRW (NPR) Los Angeles "offbeat salute to the AMC series" --"The Baltimore Sun" "Why give a h
Judy Gelman is co-author of "The Book Club Cookbook: Recipes and Food for Thought from Your Book Club's Favorite Books and Authors" (Penguin, 2004), the first cookbook designed for book discussion groups. The second edition of "The Book Club Cookbook" will be published in 2012. She is also co-author "The Kids' Book Club Book: Reading Ideas, Activities, and Smart Tips for Organizing Terrific Kids' Book Clubs" (Penguin, 2007) and "Table of Contents: From Breakfast with Anita Diamant to Dessert with James Patterson - a Generous Helping of Recipes, Writings and Insights from Today's Bestselling Authors" (Adams, 2010). She is co-creator of bookclubcookbook.com and kidsbookclubbook.com. She speaks about cooking, food and reading to book and food enthusiasts across the country. Peter Zheutlin is the author of "Around the World on Two Wheels: Annie Londonderry's Extraordinary Ride" (Citadel Press, 2007) and the co-author, with Thomas B. Graboys, M.D., of "Life in the Balance: A Physician's Memoir of Life, Love and Loss with Parkinson's Disease and Dementia" (Union Square Press, 2008). He is also the co-author, with Robert P. Smith, of "Riches Among the Ruins: Adventures in the Dark Corners of the Global Economy" (Amacom, 2009). Mr. Zheutlin has also written for "The Boston Globe," "The Christian Science Monitor," "The Los Angeles Times," "The New England Quarterly" and numerous other publications in the U.S. and abroad.