WHAT IS THE PLAYBOOK ?

The Playbook provides a plenitude of plays to profit the persistent player. Contained within these pages are every scam, con, hustle, hoodwink, gambit, flimflam, stratagem, and bamboozle I've ever used or ever hope to use to pick up chicks and give them the business. Now, in an act of selfless charity, I'm passing this treasure of pleasure on to you as an easy-to-follow guide.

Included in this collection are more than seventy-five schemes that are guaranteed to attract all kinds of women, no matter how sorrowful your social skills are. Best of all, most of the plays require no experience and little to no preparation, so you have almost everything you need to get started right away. Almost: 83% of the plays will necessitate at least a few yards of aluminum foil, so before you get cracking you'd be wise to buy in bulk at your local big-box store or discount warehouse retailer.

With so many other pickup programs available on the market today, you might be wondering what makes The Playbook unique. First of all, I created this program, so you know it's gonna be awesome. Second, I've slept with enough hotties to overbook a commercial airliner (several of them on a commercial airliner, what up?) and only once had to wear eyeliner and a goofy hat to do it ... and that was only because this chick had been in a coma since 1983 and pretending to be Boy George was such an obvious layup.

Last, and most important, other seduction methods preach "social dynamics" in which you insult women in an attempt to attract them. I find that approach both demeaning and offensive. Rather than degrade women, The Playbook centers on the profound, positive, and personal changes you can make to trick hot sluts into sleeping with you.

HOW DOES THE PLAYBOOK WORK?

The plays in this book are scientifically calibrated to excite the female sex nodes enough to make her actually consider having sex with a stranger. This strategy flies in the face of conventional wisdom, because for countless millennia men were led to believe that women were not interested in casual sex. We were told their libido had been replaced with the urge to have children, make dinner, and discover the planet's cutest handbag. But recent evidence suggests that women enjoy sex almost as much as finding a Christian Dior clutch in white croc at 30% off.

Now, thanks to science, we can generate a clearer picture of what women are looking for in a sexual partner. After years of in-depth field research ( very in-depth), I've discovered that women are sexually aroused by four primary factors:

Money

Fame

Vulnerability

Emotional and spiritual fulfillment

Obviously, number four is right out the window. Seducing a woman by satisfying her on an emotional level is difficult, time-consuming, and quite frankly, unrewarding.

Therefore The Playbook focuses on transforming you into someone who reflects some or all of those first three qualities. If you're wondering why you have to change who you are, consider this: is a woman more likely to sleep with a loser like you or an underwater bomb diffuser who grew up in an orphanage? It's just science.

Using all this information, here's a composite sketch of what women might consider the most sexually attractive man ever.

Don't worry, The Playbook will never ask you to dress up like this bozo. You'll be asked to dress up like a fireman or a football player but never at the same time.

HOW TO USE THE PLAYBOOK

As you flip through The Playbook you'll notice that each play is presented in an easy-to-follow recipe format. This is done so that even a chump like you has a shot at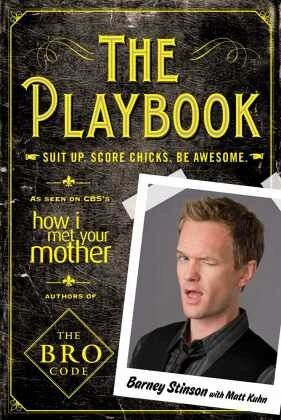 Bestselling author of The Bro Code , Barney Stinson of How I Met Your Mother fame, presents The Playbook - like Neil Strauss's The Game for Bros , The Playbook offers advice on the many creative and resourceful ways Barney's developed to wine, dine, and score with "The Ladies."

Since the dawn of history man has searched for the answer to the most fundamental of questions: "Why am I here...not banging chicks?" The search is over. Now, with the help of The Playbook, you'll be able to approach any beautiful woman, discover her innermost passion, and use that to trick her into sleeping with you. You'll master more than seventy-five seduction techniques, developed by pickup guru and all-around good guy Barney Stinson, guaranteed to turn you into a bona fide ladies' man. Featuring the famous plays including:

- The Lorenzo Von Matterhorn
- Mrs. Stinsfire
- The Ted Mosby
- The Time Traveler
- The "SNASA"
- The Scuba Diver
- The "He's Not Coming"

...and other greatest hits from Barney Stinson's secret Playbook of legendary moves. So suit up and get ready to be schooled in awesomeness.
Produktdetails
Verlag: Touchstone
2010
Ausstattung/Bilder: 2010. 176 S. w. ill. 209.55 mm
Englisch
Abmessung: 213mm x 141mm x 20mm
Gewicht: 166g
ISBN-13: 9781439196830
ISBN-10: 1439196834
Best.Nr.: 29231401