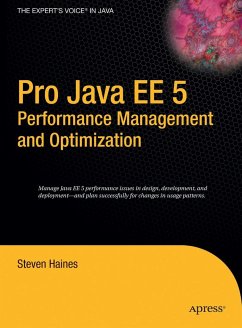 Pro Java EE 5 Performance Management and Optimization
Gebundenes Buch
Sprache: Englisch
versandkostenfrei

innerhalb Deutschlands

Versandfertig in über 4 Wochen

Alle Preise inkl. MwSt.
Andere Kunden interessierten sich auch für
Pro Java EE 5 Performance Management and Optimization
First book to address and assess performance of enterprise Java-based applications using the new Java EE 5 Presents Java EE 5 Performance Management as a proven methodology, featuring a set of common problems that have been observed in real-world customer environments Presents "wait-based" performance tuning methodology, the most efficient Java EE 5 tuning methodology, but one previously neglected in the Java EE 5 space

Pro Java EE 5 Performance Management and Optimization is the definitive resource and companion if you re tasked with managing a Java EE 5 environment. This book features proven methodology to guarantee top performing Java EE 5 applications, and explains how to measure performance in your specific environment. The book also details performance integration points throughout the development and deployment lifecycles that are paramount for application success.
In QA and pre-production, this book guides you through testing and optimally deploying your Java EE 5 applications, with particular attention to assessing capacity and discovering your saturation points. It defines the concept and application of wait-based tuning, which is one of the most effective approaches to application server tuning.
After your applications are deployed to production, the book helps you assess and improve their health. Some topics include trending, forecasting, and capacity assessment and planning. Then when production issues arise, you ll be armed with troubleshooting methodology, including solutions to common problems that have been observed in real-world environments. This book even guides you through the creation of a formal Java EE 5 Performance Management Plan customized to your environment to help you interpret and react to changing trends in usage patterns.
Produktinformation
---
Verlag: Apress
2006
Ausstattung/Bilder: 2006. XXII, 424 S. 235 mm
Seitenzahl: 397
Best.Nr. des Verlages: 11563006
Englisch
Abmessung: 266mm x 187mm x 32mm
Gewicht: 2120g
ISBN-13: 9781590596104
ISBN-10: 1590596102
Best.Nr.: 22151825
Steven Haines - Steven Haines is the author of three Java books: The Java Reference Guide (InformIT/Pearson 2005), Java 2 Primer Plus (SAMS 2002), and Java 2 From Scratch (QUE, 1999). In addition to contributing chapters and co-authoring other books, as well as technical editing countless software publications, he is also the Java Host on InformIT.com. As an educator he has taught all aspects of Java at Learning Tree University as well as at the University of California, Irvine. By day he works as a Java EE 5 Performance Architect at Quest Software defining performance tuning and monitoring software as well as managing and performing Java EE 5 performance tuning engagements for large-scale Java EE 5 deployments, including several fortune 500 companies.
Inhaltsangabe
Part I. Fundamentals

- Introduction

- Quantifying Performance

- Performance Measurements

Part II. Performance through the Application Lifecycle

- Performance Through the Application Lifecycle

- Performance Tuning Methodology

- Tuning an Application Server

- High-Performance Deployments

- Performance and Scalability Testing

Part III. Performance Management in Production

- Java EE 5 Performance Assessment

- Production Troubleshooting Methodology

- Trending, Forecasting, and Capacity Planning

- Assembling a Performance Management Plan

Part IV - Tips and Tricks

- Solving Common Java EE 5 Problems

- Grabbing Low-hanging Fruit

- Tools of the Trade