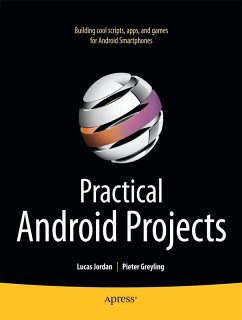 Practical Android Projects
Broschiertes Buch
Sprache: Englisch
versandkostenfrei

innerhalb Deutschlands

Sofort lieferbar

Alle Preise inkl. MwSt.
Andere Kunden interessierten sich auch für
Practical Android Projects
Take a practical approach to becoming a leading-edge Android developer, learning by example while combining the many technologies needed to create a successful, up-to-date web app.
Practical Android Projects introduces the Android software development kit and development tools of the trade, and then dives into building cool-looking and fun apps that put Android's amazing capabilities to work. Android is the powerful, full-featured, open source mobile platform that powers phones like Google Nexus, Motorola Droid, Samsung Galaxy S, and a variety of HTC phones and tablet computers.
This book helps you quickly get Android projects up and running with the free and open source Eclipse, NetBeans, and IntelliJ IDEA IDEs. Then you build and extend mobile applications using the Android SDK, Java, Scripting Layer for Android (SL4A), and languages such as Python, Ruby, Javascript/HTML, Flex/AIR, and Lua.
Produktinformation
---
Verlag: Apress
2011
2011.
Ausstattung/Bilder: 2011. XIV, 404 p. w. ill.
Seitenzahl: 420
Best.Nr. des Verlages: 80026475
Englisch
Abmessung: 235mm x 191mm x 22mm
Gewicht: 622g
ISBN-13: 9781430232438
ISBN-10: 1430232439
Best.Nr.: 31699246
Lucas L. Jordan is a lifelong computer enthusiast and has worked for many years as a Java developer. He is currently interested in mobile development and in using JavaFX to finish the many computer games he has started over the years.
Inhaltsangabe
Android Fundamentals Development Tools in Practice Roll Your Own Android Scripting Environment Embedding Lua in Android Applications Introducing SL4A: The Scripting Layer for Android Creating a GUI with HTML/JavaScript and AIR Using REST with Facebook and Twitter Using the Google App Engine with Android Game Development: Graphics Game Development: Animation App Inventor