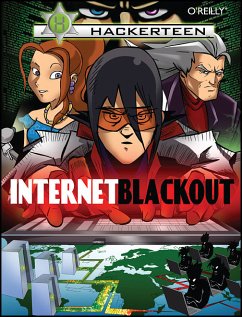 Internet Blackout: Volume 1
Mitwirkender: Marques, Marcelo
Broschiertes Buch
Sprache: Englisch
versandkostenfrei

innerhalb Deutschlands

EUR 15,95

Versandfertig in über 4 Wochen

Alle Preise inkl. MwSt.
Andere Kunden interessierten sich auch für
Internet Blackout: Volume 1
Yago wanted to use his computer skills to earn extra cash and support hi- family. But something went horribly wrong: his teacher, the greatest hacke- in the country, is accused of a crime he didn't commit-and an innocent gir- is blackmailed. Thus begin the adventures in Hackerteen.

You know that the Internet is amazing because it opens up new worlds- but not all of them are safe. While you're communicating with your friends- you could be leaving yourself open to viruses, identity theft, and all th- creeps on the Web. You need to know what you're doing and-mor- importantly-what other people are up to!

As you follow Yago and his hacker buddies in their fight against crackers- the bad guys of the internet world, you'll learn
- How Internet technologies work
- How some people try to hurt others online
- Key ways to protect yourself
- How people can work together on the Internet to make the world a better place

You have a choice: be a victim of the skeezers or be part of the solution. Fight back with Hackerteen!

This engaging graphic novel probes the modern online world where an increasing number of middle school- and high school-aged kids spend their time. Through it's sophisticated cloak-and-dagger storyline, Hackerteen teaches young readers about basic computing and Internet topics, including the potential for victimization and need for ethical behavior.Written by members of a Brazilian training company that offers classes in computer use and Internet safety to teenagers, Hackerteen stands on its own as a beautiful full-color graphic thriller with true-to-life characters and their wily nemeses. But the book is also ideal for parents and teachers who want their children and students to understand the risks of using the Internet and the proper ways to behave online.Among the advantages of Hackerteen: The book gradually introduces and expands upon computing and Internet concepts as the story progresses Through it's focus on ethical online behavior, the book teaches readers to protect themselves against spyware, phishing, and other dangers Links posted at the bottom of the pages point readers to educational tips and other material The values of the protagonists provide models for ethical behaviorWhen the characters in the story have to deal with choices presented to them by their use of this powerful technology, it underscores the need for knowledge of the Internet and respect for what they learn. Concepts such as the Domain Name System and the Open Document Format are casually mention early on, and then take shape as important topics worthy of study as they are woven into the plot.Despite a strong market for books on basic Internet topics, Hackerteen is the only one to address teens and preteens exclusively. It's a book whose time has definitely arrived.
Produktinformation
---
Vol.1
Verlag: Deke Press / O'Reilly Media
2008
Ausstattung/Bilder: w. numerous col. ills.
Seitenzahl: 100
Altersempfehlung: 13 bis 16 Jahre
Englisch
Abmessung: 232mm x 180mm x 5mm
Gewicht: 235g
ISBN-13: 9780596516475
ISBN-10: 0596516479
Best.Nr.: 23273591
Marcelo Marques is a graduate of FASP (Brazil) in business administration, with further degrees in business from the GetulioVargas Foundation and in marketing from Trevisan. He currently provides IT-related services to a number of multi-nationalcompanies. In 2001, he developed a business plan and, with threepartners, founded the company 4Linux. The company launched the innovative HackerTeen project, where Marcelo teaches entrepreneurship and marketing. He then assumed the presidency of LPI Brasil, created entertaining talks on open-source software and Linux, and wrote the comedy play "Mundo GNU/Linux" as well as the fantasy content of HackerTeen, part of which will be released as a book in 2008 by thepublisher O'Reilly in the United States. Currently he serves as Director of Strategy and Marketing at 4Linux and HackerTeen.