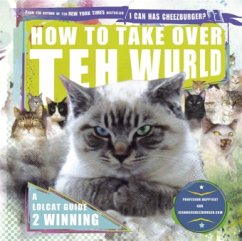 How to Take Over Teh Wurld
Lolcats Guide to World Dominashun
Gebundenes Buch
Sprache: Englisch
versandkostenfrei

innerhalb Deutschlands

Versandfertig in über 4 Wochen

Alle Preise inkl. MwSt.
Andere Kunden interessierten sich auch für
How to Take Over Teh Wurld
Building on the success of I CAN HAS CHEEZBURGER, HOW TO TAKE OVER TEH WURLD teaches cats and other hoomans how to do that (or at least take over the house) in a dozen easy to understand pictorial lessons. Readers hungry for more lolcats will love these 200+ images, some never posted online. What is cheezburger? In the beginning, there was a cat, and he was happy. He asked for a cheezburger and the interwebs said WTF? Then they said LOLZ. Now they scream MOAR! You know it's true. If you have a cat, you know their plan IS world domination. Everything you feared about your cat is true. Example Chapterz Eet ur fuds. And ebberyone else's too Kill them till they die frum it B of nimble and quick Master noo techy stuffs Become teh Master of Dis Guys Deny Deny Deny
Produktinformation
---
Verlag: Hodder & Stoughton
2009
Ausstattung/Bilder: 2009. 192 p. w. col. ill
Englisch
Abmessung: 19mm x 157mm x 159mm
Gewicht: 344g
ISBN-13: 9780340994696
ISBN-10: 034099469X
Best.Nr.: 26595130
Praise for I CAN HAS CHEEZBURGER -- - 'Stupid, brilliant and far more ridiculously funny than it has any right to be' -- Independent 20081219 'A phenomenon' -- Wired 20081219
www.icanhascheezburger.com began in January 2007 and attracts millions of visitors every month. It has been featured in The Times, the Independent, the New York Times and Time.