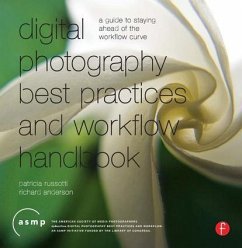 Digital Photography Best Practices and Workflow Handbook
A Guide to Staying Ahead of the Workflow Curve
Broschiertes Buch
Sprache: Englisch
versandkostenfrei

innerhalb Deutschlands

Sofort lieferbar

Alle Preise inkl. MwSt.
Andere Kunden interessierten sich auch für
Digital Photography Best Practices and Workflow Handbook
Managing your digital photos can be one of the most unavoidable headaches. With so many existing workflow practices based on specific software rather than a universal view of the entire image file processing ecology, you need something that can make the process less overwhelming. Patricia Russotti and Richard Anderson provide you with the best workflow practices for planning and capturing to archiving you digital photography and everything in between. This easy-to-follow design paired with detailed charts and beautiful photos will give you the tools you need to perfect your workflow. This handbook is software version independent and focuses more on the key fundamentals that are a constant from software to software.
Furthermore, stay current with the accompanying website (www.dpBestflow.org) that provides resources and links for ever changing technology and the latest advances in workflow, and interviews with professional photographers. Co-published with the American Society of Media Photographers and dpBestflow (A U.S. Library of Congress funded project) Digital Photography Best Practices and Workflow Handbook is the most trusted resource for digital photographers and digital imaging artists.
Find the right system for you and better manage all of your digital files - guaranteed to save you hours of work and frustration!
Co-published and endorsed by the American Society of Media Photographers (ASMP) and dpBestflow, a U.S. Library of Congress funded project
Beautiful images guide you through step-by-step instructions for workflow

Produktinformation
---
Verlag: Focal Press
2009
Ausstattung/Bilder: 2009. 336 p.
Seitenzahl: 336
Focal Press
Englisch
Abmessung: 238mm x 228mm x 24mm
Gewicht: 734g
ISBN-13: 9780240810959
ISBN-10: 0240810953
Best.Nr.: 26860122
Portuguese-Language Foto Digital review
Richard Anderson is an experienced software engineer and writer who spends his time working with Microsoft technologies, day in day out. Having spent the better part of a decade doing this, he is still remarkably sane! Richard currently works for BMS software - an ADP company - where he is a technical architecture manager. Richard is currently working on the development of a large-scale Internet-based payroll and HR system.
Inhaltsangabe
Introduction; Chapter 1 : Digital Photography Best Practices and Workflow; Chapter 2: Terminology and The Importance of Language; Chapter 3: An Overview of Workflow Components and Planning; Chapter 4: Workflows and Parameters; Chapter 5: The Image Archive; Chapter 6 : Image Capture; Chapter 7 : Getting To Work - Image Ingestion; Chapter 8: Image Edit; Chapter 9: Optimization; Chapter 10: Master Files and Derivative Files; Chapter 11: Image Proofing; Chapter 12: Image Delivery