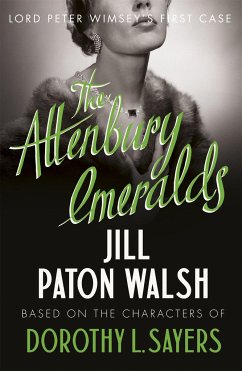 The Attenbury Emeralds
Lord Peter Wimsey's first case
Based on the characters of Dorothy L. Sayers
Broschiertes Buch
Sprache: Englisch
versandkostenfrei

innerhalb Deutschlands

Sofort lieferbar

Alle Preise inkl. MwSt.
Andere Kunden interessierten sich auch für
The Attenbury Emeralds
It was 1921 when Lord Peter Wimsey first encountered the Attenbury emeralds. The recovery of the magnificent gem in Lord Attenbury's most dazzling heirloom made headlines - and launched a shell-shocked young aristocrat on his career as a detective.
Now it is 1951: a happily married Lord Peter has just shared the secrets of that mystery with his wife, the detective novelist Harriet Vane. Then the new young Lord Attenbury - grandson of Lord Peter's first client - seeks his help again, this time to prove who owns the gigantic emerald that Wimsey last saw in 1921.
It will be the most intricate and challenging mystery he has ever faced . . .
Since the publication of A Presumption of Death, which was set in 1941 in the wartime English countryside, readers have been eagerly asking for this story - a wholly original and utterly engrossing new detective adventure.
Produktinformation
---
Verlag: Hodder & Stoughton
2011
Ausstattung/Bilder: 2011. 352 S. 197 mm
Seitenzahl: 338
Lord Peter Wimsey
Englisch
Abmessung: 198mm x 128mm x 38mm
Gewicht: 243g
ISBN-13: 9780340995747
ISBN-10: 0340995742
Best.Nr.: 32454666
'Sayers's fans won't be disappointed, and newcomers are in for a treat' -- Laura Wilson, Guardian 20101023 'Sayers would not have recognised that it wasn't her own work.' -- Marcel Berlins, The Times 20101016 'A great deal of fun.' -- Natasha Cooper TLS 20101015 'An absolute treat: civilised, intelligent and spellbinding...' -- Barry Forshaw, Daily Express 20100917 'A pitch-perfect Golden Age mystery; not a pastiche but a gem of a period puzzle that belongs on the shelf beside the Wimsey originals.' -- Christopher Fowler, Financial Times 20100917 'An enjoyable and clever concoction ... a good puzzle ... skilled portrait of the austere postwar world.' -- Jessica Mann, Literary Review 20100910 'Wit, worldly wisdom and literary jokes ... As a Peter Wimsey story, it should give unalloyed pleasure to Sayers' fans: and simply in its own right as a novel, it makes joyous light reading.' -- Anthony Lejeune, Tablet 20110101 'A crime puzzle with deeper layers which makes for an entertaining and satisfying read.' -- Historical Novels Review 20110101 'A delight.' -- Irish Times 20110101 "A delight. The mystery is intriguing - and, more crucially, Paton Walsh perfectly captures Sayers's voice.' -- Irish Times 20110625
Dorothy Leigh Sayers, geboren am 13. Juni 1893 als Tochter eines Pfarrers und Schuldirektors aus altem englischem Landadel, war eine der ersten Frauen, die an der Universität ihres Geburtsorts Oxford Examen machte. Sie wurde Lehrerin in Hull, wechselte dann aber für zehn Jahre zu einer Werbeagentur. 1926 heiratete sie den Hauptmann Oswald Atherton Fleming. Als Schriftstellerin begann sie mit religiösen Gedichten und Geschichten. Auch ihre späteren Kriminalromane schrieb sie in der christlichen Grundanschauung von Schuld und Sühne. Ihre über zwanzig Detektivromane, die sich durch psychologische Grundierung, eine Fülle bestechender Charakterstudien und eine ethische Haltung auszeichnen, sind inzwischen in die Literaturgeschichte eingegangen.