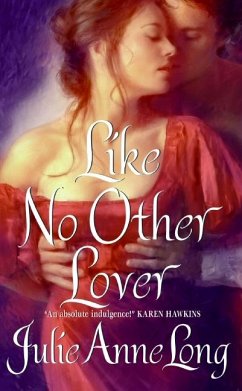 Like No Other Lover
Broschiertes Buch
Sprache: Englisch
versandkostenfrei

innerhalb Deutschlands

Sofort lieferbar

Alle Preise inkl. MwSt.
Andere Kunden interessierten sich auch für
Like No Other Lover
Miles Redmond, the second son of the wealthy Redmond family of Pennyroyal Green, has his familys dark good looks, the cool, studious demeanor of the scientist he is - and formidable sensual talents, which he discreetly and enthusiastically shares with the tons aristocratic widows. But the very notion of "love" and its side effects - poetry, idiocy, obsession - amuses him. When it doesnt bore him. Which is why hes blindsided when Cynthia Brightly - the dazzling, slightly scandalous, ambitious and all-but-penniless belle of the season - manages to steal his heart at a ball only to break it minutes later with words he wasnt meant to hear: "Miles Redmond? Why should I settle for a dour second son when I can have an earl?" The tables turn two years later when Miles becomes the Redmond heir and Cynthia arrives in Pennyroyal Green trailing a whiff of scandal and a hint of desperation only Miles senses. His mocking offer to help her husband hunt from the lords on hand - as Redmond heir, Miles couldnt possibly marry her - evolves into an incendiary passion that upends their notions of love, duty and ambition.
Produktinformation
---
Abmessung: 171mm x 108mm x 27mm
Gewicht: 185g
ISBN-13: 9780061341595
ISBN-10: 0061341592
Best.Nr.: 23539816
Ein Marktplatz-Angebot für "Like No Other Lover" für EUR 3,50
Zustand
Preis
Porto
Zahlung
Verkäufer
Rating
wie neu
3,50
1,30
Banküberweisung
smaus2
100,0%
ansehen