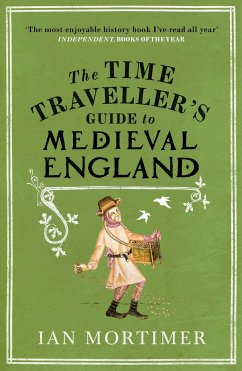 The Time Traveller's Guide to Medieval England
A Handbook for Visitors to the Fourteenth Century
Broschiertes Buch
Sprache: Englisch
versandkostenfrei

innerhalb Deutschlands

Sofort lieferbar

Alle Preise inkl. MwSt.
Andere Kunden interessierten sich auch für
The Time Traveller's Guide to Medieval England
The past is a foreign country: this is your guidebook. Imagine you could get into a time machine and travel back to the fourteenth century. What would you see? What would you smell? More to the point, where are you going to stay? Should you go to a castle or a monastic guesthouse? And what are you going to eat? What sort of food are you going to be offered by a peasant or a monk or a lord? This radical new approach turns our entire understanding of history upside down. It shows us that the past is not just something to be studied; it is also something to be lived. It sets out to explain what life was like in the most immediate way, through taking you, the reader, to the middle ages, and showing you everything from the horrors of leprosy and war to the ridiculous excesses of roasted larks and haute couture. Being a guidebook, many questions are answered which do not normally occur in traditional history books. How do you greet people in the street? What should you use for toilet paper? How fast - and how safely - can you travel? Why might a physician want to taste your blood? And how do you test to see if you are going down with the plague?The result is the most astonishing social history book you are ever likely to read: revolutionary in its concept, informative and entertaining in its detail, and startling for its portrayal of humanity in an age of violence, exuberance and fear.
Produktinformation
---
Abmessung: 198mm x 128mm x 25mm
Gewicht: 278g
ISBN-13: 9781845950996
ISBN-10: 1845950992
Best.Nr.: 26543948
"Amazing" Alison Weir "He has a novelist's eye for detail, and his portrait of an England in which sheep are the size of dogs, 30-year-old women are regarded as so much "winter forage", and green vegetables widely held to be poisonous has something of the hallucinatory quality of science-fiction" Daily Telegraph "[Mortimer] sets out to re-enchant the 14th Century, taking us by the hand through a landscape furnished with jousting knights, revolting peasants and beautiful ladies in wimples. It is Monty Python and the Holy Grail with footnotes, and, my goodness it is fun... The result of this careful blend of scholarship and fancy is a jaunty journey through the 14th Century, one that wriggles with the stuff of everyday life" Guardian "This is not only an unusual book, but a thoroughly engaging one" Literary Review "After The Canterbury Tales this has to be the most entertaining book ever written about the middle ages " -- Sue Arnold Guardian
Dr Ian Mortimer is the author of the bestselling Time Traveller's Guide to Medieval England, eight other books and many peer-reviewed articles on English history between the fourteenth and eighteenth centuries. He is a Fellow of the Royal Historical Society and was awarded the Alexander Prize (2004) for his work on the social history of medicine in seventeenth-century England. In June 2011, the University of Exeter awarded him a higher doctorate (D.Litt.) by examination, on the strength of his historical work. He also writes historical fiction, published under his middle names (James Forrester). He lives with his wife and three children on the edge of Dartmoor, in Devon. For further information about him and a full bibliography, see his website: www.ianmortimer.com.
3 Marktplatz-Angebote für "The Time Traveller's Guide to Medieval England" ab EUR 7,50
Zustand
Preis
Porto
Zahlung
Verkäufer
Rating
leichte Gebrauchsspuren
7,50
1,20
Selbstabholung und Barzahlung, PayPal, Banküberweisung
Giorgio03
100,0%
ansehen
Wie neu
10,60
1,60
Selbstabholung und Barzahlung, Banküberweisung
Buchversand Zorneding
99,1%
ansehen
wie neu
10,95
1,60
Selbstabholung und Barzahlung, PayPal, Banküberweisung
Hausmanns Büchershop
98,9%
ansehen