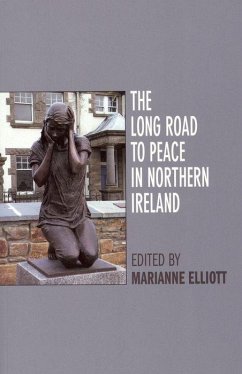 The Long Road to Peace in Northern Ireland: Peace Lectures from the Institute of Irish Studies at Liverpool University
Herausgeber: Elliott, Marianne
Broschiertes Buch
Sprache: Englisch
versandkostenfrei

innerhalb Deutschlands

Versandfertig in über 4 Wochen

Alle Preise inkl. MwSt.
Andere Kunden interessierten sich auch für
The Long Road to Peace in Northern Ireland: Peace Lectures from the Institute of Irish Studies at Liverpool University
The best-selling first edition of "The Long Road to Peace in Northern Ireland" included essays from Senator George J. Mitchell, Sir David Goodall, Sir George Quigley, Lord Owen and Niall O'Dowd among others, and demonstrated the evolution of peace in Ireland, culminating in the Good Friday Agreement. Now Marianne Elliott, one of the world's leading historians of Ireland, has updated the book and commissioned new essays to ensure that this vital resource for students, scholars, politicians and the interested general reader continues to illuminate the peace process through the words of some of its pivotal figures.
Produktinformation
---
Abmessung: 232mm x 159mm x 18mm
Gewicht: 503g
ISBN-13: 9781846310652
ISBN-10: 1846310652
Best.Nr.: 21758721
Elliott's book is a formidable achievement... balanced as well as deeply researched and forcefully written. -- Daily Telegraph review of Marianne Elliott's previous book 'The Catholics of Ulster'
Professor Marianne Elliott, the Director of the University of Liverpool's Institute of Irish Studies, is internationally recognised as one of Ireland's leading historians and is best known for her acclaimed biography 'Wolfe Tone: Prophet of Irish Independence' (Yale), which won numerous awards and for 'The Catholics of Ulster: A History' (Penguin).
Inhaltsangabe
Acknowledgements List of contributors List of illustrations Introduction
Marianne Elliott Achieving Transformational Change
Sir George Quigley The Resolution of Armed Conflict: Internalization and its Lessons, Particularly in Northern Ireland
Lord David Owen Some Reflections on Successful Negotiation in South Africa
Frederik Van Zyl Slabbert The Secrets of the Oslo Channels: Lessons from Norwegian Peace Facilitation in the Middle East, Central American and the Balkans
Jan Egeland The Awakening: Irish
America's Key Role in the Irish Peace Process
Niall O'Dowd 'Give Us Another MacBride Campaign': An Irish
American Contribution to Peaceful Change in Northern Ireland
Kevin McNamara MP Towards Peace in Northern Ireland
Senator George Mitchell Neither Orange March nor Irish Jig: Finding Compromise in Northern Ireland
Senator Maurice Hayes Mountain
climbing Irish
Style: The Hidden Challenges of the Peace Process
Martin Mansergh The Good Friday Agreement
A Vision for a New Order in Northern Ireland
Peter Mandelson MP Hillborough to Belfast: Is It the Final Lap?
Sir David Goodall Defining Republicanism: Shifting Discourses of New Nationalism and Post
republicanism
Kevin Bean Conflict, Memory and Reconciliation
Paul Arthur Keeping Going: Beyond Good Friday
Harvey Cox Religion and Identity in Northern Ireland
Marianne Elliott Appendices Index