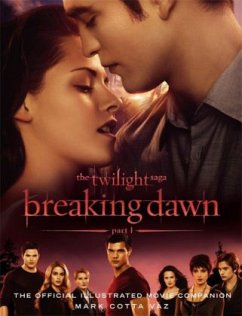 The Twilight Saga, Breaking Dawn
The official illustrated movie companion
Broschiertes Buch
Sprache: Englisch
versandkostenfrei

innerhalb Deutschlands

Sofort lieferbar

Alle Preise inkl. MwSt.
Andere Kunden interessierten sich auch für
The Twilight Saga, Breaking Dawn
Designed as a celebration of the film, this lavishly illustrated paperback edition is an exclusive behind-the-scenes guide featuring full-colour photos of the cast, locations and sets, as well as storyboards, interviews, details of the special effects and much more.
Produktinformation
---
Pt.1
Verlag: Little, Brown Book Group; Atom
2011
Ausstattung/Bilder: 2011. 139 p. w. numerous col. photos.
Twilight Saga Pt.4/1
Altersempfehlung: ab 14 Jahren
Englisch
Abmessung: 14mm x 218mm x 275mm
Gewicht: 607g
ISBN-13: 9781907411168
ISBN-10: 190741116X
Best.Nr.: 33231067
"Epic! Sexy, stylish and altogether the coolest movie of the year." (FOX TV)

'Catherine Hardwicke ... has reconjured Meyer's novel as a cloudburst mood piece filled with stormy skies, rippling hormones, and understated visual effects." (Entertainment Weekly)

"'Hardwicke has connected so intensely to the Meyer novel that it's hard to imagine anyone else making a better version." (Los Angeles Times)
---
Praise for New Moon -"Teens will relish this new adventure and hunger for more."--Booklist -"[A] near-genius balance of breathtaking romance and action."--VOYA -"New Moon will ... leave [fans] breathless for the third."--School Library Journal Praise for Eclipse -"Move over, Harry Potter." - "USA"" Today" -"[Stephenie Meyer is] the world's most popular vampire novelist since Anne Rice" - "Entertainment Weekly" -"Meyer's trilogy seethes with the archetypal tumult of star-crossed passions, in which the supernatural element serves as a heady spice." - "The New York Times" Praise for Twilight -A New York Times Editor's Choice -A Publishers Weekly Best Book of the Year -An Amazon Best Book of the Decade...So Far -An American Library Association Top Ten Best Books for Young Adults
Mark Cotta Vaz is the author of over twenty-one books, including four New York Times bestsellers. His recent works include Mythic Vision: The Making of Eragon, The Spirit: The Movie Visual Companion, and his biography, Living Dangerously: The Adventures of Merian C. Cooper, Creator of King Kong¿which was a Los Angeles Times bestseller.
3 Marktplatz-Angebote für "The Twilight Saga, Breaking Dawn" ab EUR 1,00
Zustand
Preis
Porto
Zahlung
Verkäufer
Rating
leichte Gebrauchsspuren
1,00
1,90
PayPal, offene Rechnung, Banküberweisung
Sellonnet GmbH
99,8%
ansehen
wie neu
5,09
1,90
PayPal, offene Rechnung, Banküberweisung
Mein Buchshop
99,4%
ansehen
gebraucht; sehr gut
8,72
2,00
offene Rechnung (Vorkasse vorbehalten), PayPal, offene Rechnung
Bücherdackel
99,9%
ansehen