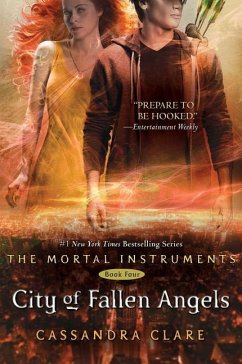 The Mortal Instruments - City of Fallen Angels\Chroniken der Unterwelt - City of Fallen Angels, englische Ausgabe
Broschiertes Buch
Sprache: Englisch
versandkostenfrei

innerhalb Deutschlands

Sofort lieferbar

Alle Preise inkl. MwSt.
Andere Kunden interessierten sich auch für
The Mortal Instruments - City of Fallen Angels\Chroniken der Unterwelt - City of Fallen Angels, englische Ausgabe
The Mortal War is over, and sixteen-year-old Clary Fray is back home in New York, excited about all the possibilities before her. She's training to become a Shadowhunter and to use her unique power. Her mother is getting married to the love of her life. Downworlders and Shadowhunters are at peace at last. And - most importantly of all - she can finally call Jace her boyfriend.
But nothing comes without a price.
Someone is murdering Shadowhunters, provoking tensions between Downworlders and Shadowhunters that could lead to a second, bloody war. Clary's best friend, Simon, can't help her. His mother just found out that he's a vampire and now he's homeless. Everywhere he turns, someone wants him on their side - along with the power of the curse that's wrecking his life. And they're willing to do anything to get what they want. Not to mention that he's dating two beautiful, dangerous girls -neither of whom knows about the other one.
When Jace begins to pull away from her without explaining why, Clary is forced to delve into the heart of a mystery whose solution reveals her worst nightmare: she herself has set in motion a terrible chain of events that could lead to her losing everything she loves. Even Jace.
Love. Blood. Betrayal. Revenge. The stakes are higher than ever in "City of Fallen Angels".
Produktinformation
---
Verlag: Simon & Schuster Us
2011
Ausstattung/Bilder: 2011. 432 p.
Seitenzahl: 432
The Mortal Instruments Vol.4
Altersempfehlung: ab 14 Jahren
Englisch
Gewicht: 594g
ISBN-13: 9781442403543
ISBN-10: 1442403543
Best.Nr.: 30926125
Cassandra Clare wurde als Tochter amerikanischer Eltern in Teheran geboren. Einen Großteil ihrer Kindheit reiste sie gemeinsam mit ihrer Familie durch die Welt. Die ersten zehn Jahre ihres Lebens verbrachte sie unter anderem in Frankreich, England und der Schweiz. Später lebte sie in Los Angeles und New York, wo sie für Zeitschriften und die Boulevardpresse schrieb. Seit 2006 arbeitet Cassandra Clare als freie Autorin. Sie lebt in New York.