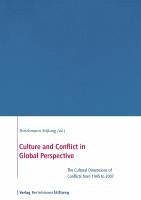 HINWEIS: Dieser Artikel kann aus rechtlichen Gründen nur mit Rechnungsadresse in D, A, CH ausgeliefert werden.
Culture and Conflict in Global Perspective (eBook, ePUB)
The Cultural Dimensions of Global Conflicts 1945 to 2007
versandkostenfrei

innerhalb Deutschlands

Statt EUR 18,00*

EUR 12,99

Sofort per Download lieferbar

Alle Preise inkl. MwSt.
*Preis der gedruckten Ausgabe (Broschiertes Buch)

-28 %
Andere Kunden interessierten sich auch für
Culture and Conflict in Global Perspective (eBook, ePUB)
Has Samuel Huntington's proposed "clash of civilizations" actually happened in the post-1945 era? Events such as 9/11 2001 or the crisis due to caricatures of Mohammed might suggest it has. The topic of culture and conflict has been the subject of fierce debate among scholars and the public alike over the last two decades. The Bertelsmann Stiftung, which has been committed to promoting international cultural dialogue for many years now, is publishing "Culture and Conflict in Global Perspective", a theoretically-informed definition of cultural conflicts and a world-wide mapping of such conflicts between 1945 and 2007. The publication is based on an empirical study that explores in what conflicts cultural factors played a role and to what extent they influenced the intensity of violence in the respective conflicts. The study and the explanations derived from it form an important instrument to foster cultural dialogue for peaceful coexistence in a globalized world.
Produktinformation
---
ISBN-13: 9783867932790
ISBN-10: 3867932794
Best.Nr.: 37134982
Dr. Aurel Croissant ist Associate Professor for Comparative Politics in Southeast Asia NPS, Monterey/USA.