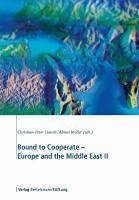 HINWEIS: Dieser Artikel kann aus rechtlichen Gründen nur mit Rechnungsadresse in D, A, CH ausgeliefert werden.
Bound to Cooperate - Europe and the Middle East II (eBook, ePUB)
versandkostenfrei

innerhalb Deutschlands

Statt EUR 42,00*

EUR 36,99

Sofort per Download lieferbar

Alle Preise inkl. MwSt.
*Preis der gedruckten Ausgabe (Broschiertes Buch)

-12 %
Andere Kunden interessierten sich auch für
Bound to Cooperate - Europe and the Middle East II (eBook, ePUB)
The Middle East is a region of crises, conflicts and wars as much as it is a region of great potential and opportunity. However, the European Union and its member states have not yet found a viable strategic approach to meet both the challenges and opportunities in their immediate neighbourhood. The Europeans have not yet developed sufficient foreign and security policy mechanisms to pursue their interests effectively. How the European Union can support economic and political transformation processes throughout the region and thus contribute to a more stable, more prosperous and more democratic Middle East remains the subject of intense debate.
The objective of this book is to provide a platform for this debate about the European Union's future role as a player in the Middle East, at a crucial moment in EU-U.S.-Middle East relations. As the European Union re-organizes its Mediterranean policies and the United States vote a new president into office, the authors of this book discuss a wide range of topics related to European foreign policy in the Middle East, the Mediterranean and the Gulf region, Europe's role in the Arab-Israeli conflict and the state of transformation processes in the region.
Produktinformation
---
ISBN-13: 9783867932394
ISBN-10: 3867932395
Best.Nr.: 37135019