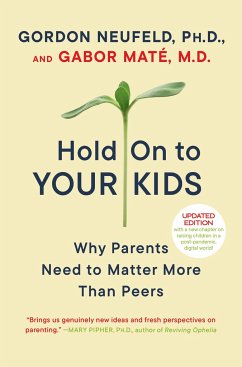 Hold on to Your Kids
Why Parents Need to Matter More Than Peers
Broschiertes Buch
Sprache: Englisch
versandkostenfrei

innerhalb Deutschlands

Versandfertig in über 4 Wochen

Alle Preise inkl. MwSt.
Andere Kunden interessierten sich auch für
Hold on to Your Kids
A psychologist with a reputation for penetrating to the heart of complex parenting issues joins forces with a physician and bestselling author to tackle one of the most disturbing and misunderstood trends of our time -- peers replacing parents in the lives of our children. Dr. Neufeld has dubbed this phenomenon peer orientation, which refers to the tendency of children and youth to look to their peers for direction: for a sense of right and wrong, for values, identity and codes of behaviour. But peer orientation undermines family cohesion, poisons the school atmosphere, and fosters an aggressively hostile and sexualized youth culture. It provides a powerful explanation for schoolyard bullying and youth violence; its effects are painfully evident in the context of teenage gangs and criminal activity, in tragedies such as in Littleton, Colorado; Tabor, Alberta and Victoria, B.C. It is an escalating trend that has never been adequately described or contested until Hold On to Your Kids. Once understood, it becomes self-evident -- as do the solutions. Hold On to Your Kids will restore parenting to its natural intuitive basis and the parent-child relationship to its rightful preeminence. The concepts, principles and practical advice contained in Hold On to Your Kids will empower parents to satisfy their children's inborn need to find direction by turning towards a source of authority, contact and warmth. "Something has changed. One can sense it, one can feel it, just not find the words for it. Children are not quite the same as we remember being. They seem less likely to take their cues from adults, less inclined to please those in charge, less afraid of getting into trouble.Parenting, too, seems to have changed. Our parents seemed more confident, more certain of themselves and had more impact on us, for better or for worse. For many, parenting does not feel natural. Adults through the ages have complained about children being less respectful of the
Produktinformation
---
Verlag: Ballantine
2006
Seitenzahl: 296
Englisch
Abmessung: 206mm x 136mm x 19mm
Gewicht: 235g
ISBN-13: 9780375760280
ISBN-10: 0375760288
Best.Nr.: 20896194
Dr. Gordon Neufeld studierte an den Universitäten von Winnipeg und British Columbia/Kanada und promovierte dort 1975 im Bereich klinische Psychologie und Entwicklungspsychologie. Er lehrte fast 20 Jahre an der Universität von British Columbia und arbeitete mehrere Jahre in der Gerichtspsychologie, wo er auf gewalttätige junge Straftäter spezialisiert war.§Er verfügt außerdem über eine mehr als 30-jährige professionelle Erfahrung als Entwicklungs- und Klinikpsychologe in seiner Privatpraxis in Vancouver, Kanada. Dr. Gordon Neufeld ist sehr erfolgreich in seiner Privatpraxis und in der Forschung. Außerdem bietet er Workshops und Seminare an und schreibt Artikel und Bücher, die in Nordamerika sehr große Beachtung finden. Inhalt sind Schwierigkeiten und deren Lösungen, die sich für Kinder, Eltern und Pädagogen im Zusammenleben auftun.