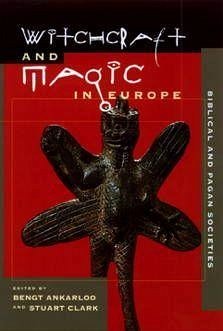 Witchcraft and Magic in Europe, Volume 1: Biblical and Pagan Societies
Herausgeber: University of Pennsylvania Press, Of Pen; Ankarloo, Bengt
Broschiertes Buch
Sprache: Englisch
versandkostenfrei

innerhalb Deutschlands

Versandfertig in über 4 Wochen

Alle Preise inkl. MwSt.
Andere Kunden interessierten sich auch für
Witchcraft and Magic in Europe, Volume 1: Biblical and Pagan Societies
In the ancient Near East, the art of influencing the natural course of events by means of spells and other ritual forms was universal. The social and political role of magic is apparent, too, in the competition to achieve precedence over rival systems of
Produktinformation
---
Gewicht: 299g
ISBN-13: 9780812217858
ISBN-10: 0812217853
Best.Nr.: 21471849
Praise for the series: "An exceptional historical and social analysis of a subject of enduring interest."-Library Journal "Although intended mainly for scholars, there is much to interest the common reader."-New Yorker "A modern scholarly survey of a wide variety of beliefs and practices from ancient times to the present."-Theology Digest
Bengt Ankarloo is Professor of History at Lund University, Sweden. Stuart Clark is Professor of History at the University of Wales, Swansea.
Inhaltsangabe
Witchcraft and Magic in Ancient Mesopotamia
Marie
Louise Thomsen Magic in Ancient Syria
Palestine and in the Old Testament
Frederick H. Cryer

Ein Marktplatz-Angebot für "Witchcraft and Magic in Europe, Volume 1: Biblical and Pagan Societies" für EUR 12,00
Zustand
Preis
Porto
Zahlung
Verkäufer
Rating
12,00
2,00
Banküberweisung, offene Rechnung, Kreditkarte, Selbstabholung und Barzahlung
Antiquariat Dr. Minx
99,5%
ansehen