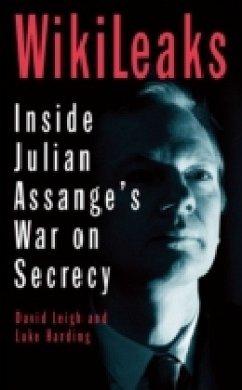 WikiLeaks: Inside Julian Assange's War on Secrecy
by The "Guardian"
Broschiertes Buch
Sprache: Englisch
versandkostenfrei

innerhalb Deutschlands

Versandfertig in über 4 Wochen

Alle Preise inkl. MwSt.
Andere Kunden interessierten sich auch für
WikiLeaks: Inside Julian Assange's War on Secrecy
It was the biggest leak in history. WikiLeaks infuriated the world's greatest superpower, embarrassed the British royal family and helped cause a revolution in Africa. The man behind it was Julian Assange, one of the strangest figures ever to become a worldwide celebrity. Was he an internet messiah or a cyber-terrorist? Information freedom fighter or sex criminal? The debate would echo around the globe as US politicians called for his assassination. Award-winning Guardian journalists David Leigh and Luke Harding have been at the centre of a unique publishing drama that involved the release of some 250,000 secret diplomatic cables and classified files from the Afghan and Iraq wars. At one point the platinum-haired hacker was hiding from the CIA in David Leigh's London house. Now, together with the paper's investigative reporting team, Leigh and Harding reveal the startling inside story of the man and the leak.
Produktinformation
---
2011
Ausstattung/Bilder: 2011. XI, 340 p.
Englisch
Abmessung: 25mm x 135mm x 210mm
Gewicht: 370g
ISBN-13: 9780852652398
ISBN-10: 0852652399
Best.Nr.: 32951662
"A behind-the-scenes adrenalin rush of secret meetings, encrypted websites [and] passwords written on hotel napkins" Metro "[A] very detailed, highly readable and, yes, rather racy volume. It is a fascinating and forensic analysis" Tribune "This pair of Guardian journalists provide excellent detail about the mechanics of the Wikileaks operation" -- Books Of The Year: Politics Sunday Times Culture
Luke Harding wurde 1968 in Nottingham geboren und studierte englische Literatur in Oxford. 1996 stieß er zur linksliberalen britischen Tageszeitung The Guardian und berichtete aus Neu-Delhi, Berlin und Moskau ebenso wie vom Afghanistan- und Irakkrieg. Anfang 2011 wurde ihm nach vier Jahren als Russland-Korrespondent am Flughafen Domodedovo die Wiedereinreise verweigert. Seitdem arbeitet Harding wieder in der Guardian-Zentrale und berichtete zuletzt auch aus Libyen. Von ihm erschien außerdem: WikiLeaks: Inside Julian Assange's War on Secrecy, 2011 (mit David Leigh).