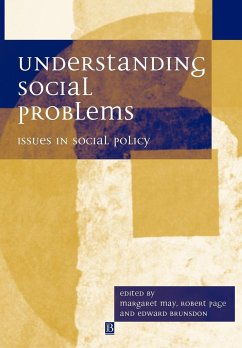 Understanding Social Problems
An Introduction
Herausgeber: May, Margaret; Brunsdon, Edward; Page, Robert M.
Broschiertes Buch
Sprache: Englisch
versandkostenfrei

innerhalb Deutschlands

Versandfertig in über 4 Wochen

Alle Preise inkl. MwSt.
Andere Kunden interessierten sich auch für
Understanding Social Problems
This up-to-date and accessible text fills an important gap in the market by introducing students to social policy perspectives on social problems.Written in an accessible, student-friendly style, using subheadings, boxed material, tables, and up-to-date examples Each chapter includes a brief outline of the issues to be explored and question sections to help learning, develop evaluative skills and encourage project work Includes an annotated guide to further reading, helpful internet addresses, and a bibliography of sources cited Chapters can be used independently or in conjunction with others addressing related questions
Produktinformation
---
Gewicht: 612g
ISBN-13: 9780631220305
ISBN-10: 0631220305
Best.Nr.: 14816257
"This is an excellent introduction to the study of social problems covering a wide range of contemporary issues utilizing theoretical perspectives and empirical data. The accessible student-friendly format will make this book of great value for students across the social sciences." Dr Michael Cahill, University of Brighton "This book is a most useful addition to the literature available to students" Professor Michael Hill, Goldsmith's College, University of London. "This new essay collection makes a distinctive contribution to the literature of British social policy...Justice cannot otherwise be done to 20 essays in a brief review but, taken together, they add up to an excellent volume." Community Care "Students...will find much to engage and encourage them in this book." Lester Parrott, North East Wales Institute.
Margaret May is one of the editors of "The Student's Companion to Social Policy" (1997) and of the forthcoming "Blackwell Dictionary of Social Policy" (2001). Edward Brunsdon's publications include contributing to and editing "The Social Policy Review" (1996-1998) and studies of private welfare (in R Page & S Silburn (eds) "British Social Welfare in the Twentieth Century" (1999) and welfare management (in S Horton & R Farnham (eds.) "Public Management in Britain" (1999). Edward Brunsdon and Margaret May are Principal Lecturers in Social Policy in the Department of Sociology and Applied Social Studies at London Guildhall University. Robert Page is currently a Reader in Social Policy at the University of Leicester. He is the author of "Stigma" (1984) and "Altruism and the Welfare State" (1996). He is the co-editor (with Vic George) of "Modern Thinkers on Welfare" (1995) and (with Richard Silburn) of "British Social Welfare in the 20th Century" (1999).
Inhaltsangabe
List of Figures. List of Tables. About the Contributors. Guide to the Book. Social Problems in Social Policy: An Introduction (Margaret May
Robert Page and Edward Brunsdon) PART ONE. STUDYING SOCIAL PROBLEMS. 1. Social Problems: Sociological Perspectives (John Clarke) 2. The Exploration of Social Problems in the Field of Social Policy (Robert Page) PART TWO. SOCIAL POLICY
SOCIAL PROBLEMS. The Family. 3. Family Change and Lone Parents as a Social Problem (Jane Lewis) 4. Caring and Dependency: Age and Disability (John Baldock) 5. Domestic Violence (Lorraine Radford) Poverty and Social Exclusion. 6. The Changing Face of Poverty (David Donnison) 7. Child Poverty and the Policy Response (Karen Rowlingson) 8. Homelessness (Mark Liddiard) 9. Income and Wealth (Paul Spicker) Health. 10. Health Inequalities (Helen Jones) 11. Mental Disorder (Pauline Prior) 12. Problematic Identities and Health (David Kelleher) Community Problems. 13. The Problematic Community (Susanne MacGregor) 14. Safe and Sound? Crime
Disorder and Community Safety Policies (Dee Cook) 15. Drugs and Drug Misuse (Arthur Gould) PART THREE. REPORTING SOCIAL PROBLEMS. 16. Press-Ganged! Media Reporting of Social Work and Child Abuse (Bob Franklin and Nigel Parton) 17. Defrauding the Community? The Abuse of Welfare (Hartley Dean) 18. Ways of Seeing: The News Media and Racist Violence (Eugene MLaughlin and Karim Murji) PART FOUR. CONSUMER PROTECTION IN SOCIAL POLICY. 19. Protecting the 'Vulnerable': Welfare and Consumer Protection (Margaret May) 20. Food and the Environment (Meg Huby) Index.