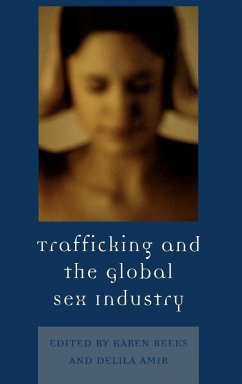 Trafficking & the Global Sex Industry
Herausgeber: Beeks, Karen; Amir, Delila
Gebundenes Buch
Sprache: Englisch
versandkostenfrei

innerhalb Deutschlands

Versandfertig in über 4 Wochen

Alle Preise inkl. MwSt.
Andere Kunden interessierten sich auch für
Trafficking & the Global Sex Industry
Trafficking & the Global Sex Industry focuses on the international trafficking of women and children for forced labor and prostitution. The essays create a link from country to country, demonstrating the worldwide nature of the problem. Expertly written and well researched, this collection gives the reader a clearer understanding of the problem of human trafficking and the actions being taken to combat it.
Produktinformation
---
Verlag: Lexington Books
2006
Seitenzahl: 239
Englisch
Abmessung: 235mm x 160mm x 23mm
Gewicht: 499g
ISBN-13: 9780739113127
ISBN-10: 0739113127
Best.Nr.: 22713349
This collection provides an important contribution to an emerging field of scholarship. Drawing together specialists from around the world, it provides a unique perspective on trafficking from many regions of the world. Its focus on organized crime and the role of civil conflicts in the increase in trafficking brings an important perspective to an ongoing debate on the causes and facilitators of trafficking. -- Dr. Louise I. Shelley, American University A diverse collection of insightful and multi-faceted essays that highlights country-specific contexts, explores causal factors and events, and is a highly useful addition to the global anti-trafficking movement. -- Bradley Myles, Polaris Project
Karen D. Beeks is Founder and Executive Director of Global Partnerships for Humanity and is a Master of Political Science. Delila Amir is Founder of the Women's Studies Forum and is Professor Emeritus of Sociology at Tel-Aviv University.
Inhaltsangabe
Chapter 1 A Message from Aung San Suu Ky Chapter 2 Introduction Part 3 Migration &amp
Trafficking: Definitions, Conditions, Routes &amp
Policies Chapter 4 Ambiguities and Confusions in Migration-Trafficking Nexus: A Development Challenge Chapter 5 International Migration &amp
Trafficking of Mexican Women to the United States Chapter 6 Trafficking of Women and Children in Vietnam: Current Issues and Problems Part 7 National Security, Organized Crime &amp
Civil Conflict Chapter 8 Human (In)security, Human Trafficking, and Security in Malaysia Chapter 9 Trafficking in Women from the Former Soviet Union for the Purposes of Sexual Exploitation Chapter 10 Insecurity and Opportunity in Colombia: Linking Civil War and Human Trafficking Part 11 Laws, Legislation, &amp
International Involvement Chapter 12 Conflicts and Interests: Trafficking in Filipino Women and the Philippine Government Policies on Migration &amp
Trafficking Chapter 13 The Challenge of Hidden Slavery: Legal Responses to Forced Labor in the United States Chapter 14 Human Rights and Human Trafficking in Thailand: A Shadow TIP Report Chapter 15 From Home to Hell: The Telling Story of an African Woman's Journey and Stay in Europe Part 16 National &amp
Local Initiatives &amp
Service Models Chapter 17 Migration and Trafficking of Women and Girls: A Brief Review of Some Effective Models in India and Thailand Chapter 18 Fighting Against Trafficking in North of Israel Chapter 19 The Provision of Protection and Settlement Services for Migrant Women Trafficked for Sexual Purposes: The Case of Italy