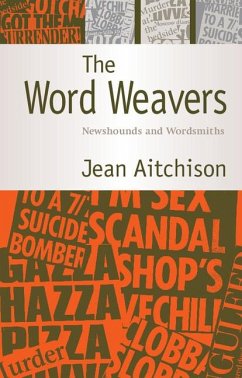 The Word Weavers
Newshounds and Wordsmiths
Broschiertes Buch
Sprache: Englisch
versandkostenfrei

innerhalb Deutschlands

Versandfertig in über 4 Wochen

Alle Preise inkl. MwSt.
Andere Kunden interessierten sich auch für
The Word Weavers
Modern journalism is often the subject of criticism and opposition. Written by one of the foremost authorities on language and the media writing today, this engaging book suggests that view is unfair, and that journalists are in fact skilled 'word weavers' whose output is cleverly worked into planned patterns. Drawing on a range of authentic news articles, it traces the development of journalism from its origins to the present day. Aitchison shows how contemporary news writers have inherited an age-old oral tradition, which over the centuries was incorporated into public notices, ballads and storybooks - eventually providing the basis of the journalism we see today. She argues that, while journalists have very different aims to literary writers, their work can in no way be regarded as inferior. Entertainingly written, The World Weavers provides a fascinating insight into journalistic writing, and will be enjoyed by anybody wanting to know more about media language.
Produktinformation
---
Abmessung: 218mm x 140mm x 16mm
Gewicht: 385g
ISBN-13: 9780521540070
ISBN-10: 0521540070
Best.Nr.: 21173504
Jean Aitchison is the Rupert Murdoch Professor of Language and Communication at the University of Oxford, and a Professorial Fellow at Worcester College. In her research she is concerned with the mental lexicon, language change, and the language of the media. She has lectured in various parts of the world, including the USA, Europe, and India.
Inhaltsangabe
1. Weaving and worrying: journalism versus literature;
2. Singers of tales: oral narrative;
3. The tongue of the hand: speech and writing;
4. Hanging, histories, marvels, mysteries: the birth of journalism;
5. Calendars of roguery and woe: daily newspapers;
6. Story telling: narrating and the news;
7. Glimmering words: boiling down and polishing;
8. Painting with words: imaginative creativity;
9. Two ideas for one: exploring metaphor;
10. The role of journalism: evaluating the views; epilogue; notes; references.