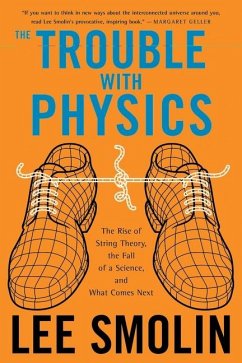 The Trouble with Physics: The Rise of String Theory, the Fall of a Science, and What Comes Next
Broschiertes Buch
Sprache: Englisch
versandkostenfrei

innerhalb Deutschlands

EUR 12,95

Versandfertig in über 4 Wochen

Alle Preise inkl. MwSt.
Andere Kunden interessierten sich auch für
The Trouble with Physics: The Rise of String Theory, the Fall of a Science, and What Comes Next
In this illuminating book, the renowned theoretical physicist Lee Smolin argues that fundamental physics -- the search for the laws of nature -- losing its way. Ambitious ideas about extra dimensions, exotic particles, multiple universes, and strings have captured the public's imagination -- and the imagination of experts. But these ideas have not been tested experimentally, and some, like string theory, seem to offer no possibility of being tested. Yet these speculations dominate the field, attracting the best talent and much of the funding and creating a climate in which emerging physicists are often penalized for pursuing other avenues. As Smolin points out, the situation threatens to impede the very progress of science. With clarity, passion, and authority, Smolin offers an unblinking assessment of the troubles that face modern physics -- and an encouraging view of where the search for the next big idea may lead.
Produktinformation
---
Abmessung: 209mm x 161mm x 27mm
Gewicht: 426g
ISBN-13: 9780618918683
ISBN-10: 061891868X
Best.Nr.: 22839885
| | |
| --- | --- |
| | Besprechung von 06.09.2009 |
---
Soziale Wahrheiten

VON JÜRGEN KAUBE

In seinem Buch über die Stringtheorie hat der amerikanische Physiker Lee Smolin ein Kapitel "Wie kämpft man gegen die Soziologie?" überschrieben. Er beruft sich dabei auf eine unter Physikern offenbar übliche Redeweise. Wenn eine Theorie sich verbreitet, nicht weil sie bewiesen ist, sondern weil Kritik gegen die Gruppe, die sie vertritt, nicht durchkommt, sprechen sie davon, "die Soziologie" sei nun mal so. Will sagen: Was gilt, ist eine Einfluss- und keine Wahrheitsfrage. "Die Gemeinschaft hat beschlossen, dass die Stringtheorie stimmt, da kann man nichts machen. Man kann nicht gegen die Soziologie kämpfen."

Darin steckt eine Gleichsetzung von "sozial" mit "gemacht" und "wissenschaftlich" mit "beobachtet". Was objektiv ist, wäre demnach nicht von sozialen Umständen abhängig, sondern ist so, wie es ist, auch wenn es niemand merken würde. Es gab Atome auch schon, als noch niemand den Begriff oder eine Atomtheorie hatte. "Strings" hingegen, so Smolin, gibt es nur so lange, wie der Einfluss der Stringtheoretiker auf Journale und Berufungskommissionen sowie die physikalische Mode reicht.

Was immer …


Lee Smolin, geboren 1955 in New York, ist Professor für theoretische Physik und einer der Mitbegründer des kanadischen Perimeter-Instituts für theoretische Physik, wo er heute arbeitet.