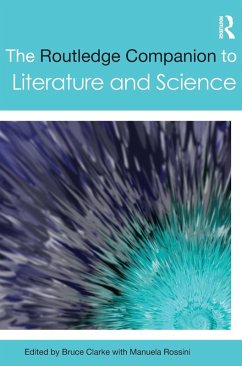 The Routledge Companion to Literature and Science
Ed.: Clarke, Bruce; Rossini, Manuela
Gebundenes Buch
Sprache: Englisch
Sofort lieferbar

Alle Preise inkl. MwSt.
*Früherer Preis

-7 %
Andere Kunden interessierten sich auch für
The Routledge Companion to Literature and Science
There has long been friction and debate between the sciences and the humanities, culminating in the 'two cultures debate' in which scientist and novelist C P Snow declared the breakdown of communication between the 'two cultures'. This book offers an overview of the history of these debates whilst tracing the conflict between the two disciplines.
Produktinformation
---
Abmessung: 253mm x 182mm x 42mm
Gewicht: 1280g
ISBN-13: 9780415495257
ISBN-10: 0415495253
Best.Nr.: 26841346
'This extraordinarily wide-ranging and well-organised series of essays will be invaluable to students and scholars alike who are interested in how scientific thinking and literary texts engage with fundamental ideas in common.' - Dame Gillian Beer, Professor of English Literature Emeritus at the University of Cambridge, UK 'Because the writing throughout is accessible to nonspecialists in both literature and science, the volume fulfills the editors' aim of offering a much-needed, comprehensive grounding in the field. Recommended.' - Choice 'A sustained attempt to resist demarcating disciplinary boundaries or limit available methodologies.' - British Society for Literature and Science
Bruce Clarke is Professor of Literature and Science at Texas Tech University, and a past president of the Society for Literature, Science, and the Arts. Manuela Rossini is Project Manager at the td-net for Transdisciplinary Research of the Swiss Academies of the Arts and Sciences in Berne.
Inhaltsangabe
Part One: Literatures and Sciences
Introduction
1. AI and ALife - John Johnston
2. Alchemy - Mark S. Morrisson
3. Biology - Sabine Sielke
4. Chaos and Complexity Theory - Ira Livingston
5. Chemistry - Jay Labinger
6. Climate Science - Robert Markley
7. Cognitive Science - Joseph Tabbi
8. Cybernetics - Soren Brier
9. Ecology - Stacy Alaimo
10. Evolution - David Amigoni
11. Genetics - Judith Roof
12. Geology - Stephen A. Norwick
13. Information Theory - Philipp Schweighauser
14. Mathematics - Brain Rotman
15. Medicine - George Rousseau
16. Nanotechnology - Colin Milburn
17. Physics - Dirk Vanderbeke
18. Psychoanalysis - Arkady Plotnitsky
19. Systems Theory - Bruce Clarke
20. Thermodynamics - John Bruni
Part Two: Disciplinary and Theoretical Approaches
Introduction
21. Agricultural Studies - Susan Squier
22. Animal Studies - Richard Nash
23. Art Connections - Robert Pepperell
24. Cultural Science Studies - Maureen McNeil
25. Deconstruction - Vicky Kirby
26. E-Literature - Joseph Tabbi
27. Feminist Science Studies - Susan Squier and Melissa Littlefield
28. Game Studies - Ivan Callus and Gordon Calleja
29. History of Science - Henning Schmidgen
30. Media Studies - Mark B. N. Hansen
31. Philosophy of Science - Alfred Nordmann
32. Posthumanism - Neil Badmington 33. Science Fiction - Lisa Yaszek
34. Semiotics - Paul Cobley
Part Three: Periods and Cultures
Introduction
35. Greece and Rome - Emma Gee
36. Middle Ages and Early Renaissance - Arielle Saiber
37. Scientific "Revolution" I: Copernicus to Boyle - Alvin Snider
38. Scientific "Revolution" II: Newton to Laplace - Lucinda Cole
39. Romanticism - Noah Heringman
40. Industrialism - Virginia Richter
41. Russia - Kenneth Knoespel 42. Japan - Thomas Lamarre
43. Modernism - Hugh Crawford
44. Postmodernism - Stefan Herbrechter