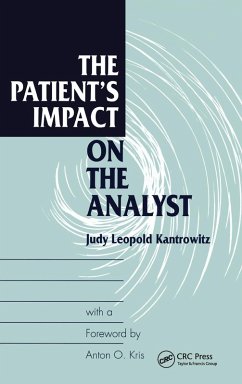 The Patient's Impact
Gebundenes Buch
Sprache: Englisch
versandkostenfrei

innerhalb Deutschlands

Versandfertig in über 4 Wochen

Alle Preise inkl. MwSt.
Andere Kunden interessierten sich auch für
The Patient's Impact
Kantrowitz begins The Patient's Impact on the Analyst by documenting how the process of analysis fosters an interactional process out of which patient and analyst alike experience therapeutic effects. Then, drawing on the clinical examples provided by her survey respondents, she offers a detailed exploration of the ways in which clinically triggered self-reflection represents a continuation of the analyst's own personal understanding and growth. Finally, she incorporates these research findings into theoretical reflections on how analysts obtain and integrate self-knowledge in the course of their ongoing clinical work. This book is a pioneering effort to understand the therapeutic process from the perspective of its impact on the analyst. It provides an enlarged framework of comprehension for recent discussions of self analysis, countertransference, interaction, and mutuality in the analytic process. Combining a wealth of experiential insight with thoughtful commentary and synthesis, it will sharpen analysts' awareness of how they work and how they are affected by their work.
Produktinformation
---
Verlag: Routledge
1996
Seitenzahl: 332
Englisch
Abmessung: 236mm x 162mm x 29mm
Gewicht: 621g
ISBN-13: 9780881632118
ISBN-10: 0881632112
Best.Nr.: 20991745
"Judy Kantrowitz has ranged like a microscopist across a decade of research using information provided by 399 psychoanalysts about their personal engagements with self-analysis under the impact of their clinical work. The results are an impressive blending of generalizations supported by large numbers and specific detailing etched in individual experience. For every analyst who has ever been caught up in self-inquiry while fretting over its significance as self-analysis, this richly documented and clearly written exploration offers both challenge and comfort." - James T. McLaughlin, M.D., Pittsburgh Psychoanalytic Institute "This book has its own impact on the reader, and the best word for that effect is liberating. In her elegant research, Dr. Kantrowitz has explored an issue that has been talked about for many years and presented her findings with clarity and precision. No therapist can afford to ignore this book, and everyone will feel much the better for reading it." - Arnold Goldberg, M.D., Chicago Institute for Psychoanalysis "Although the idea that the analytic situation is an interactional field is by now a truism, there has heretofore been no in-depth study of the impact of the patient on the analyst and its effect on the analytic process. Dr. Kantrowitz's book is therefore a groundbreaking contribution, and analysts of all persuasions will derive great benefit from it." - Arnold Richards, M.D., JAPA "[T]his volume yields deep insights into the considerable impact that patients can have on even the most experienced analysts. If the book can exert a similar impact on analysts, whether in training or advanced in their careers, it will forever change the way we conceptualize the psychoanalytic process, how we teach, and how we view therapeutic outcome." - Alan Z. Skolnikoff, M.D., JAPA
Judy Leopold Kantrowitz, Ph.D., is Training and Supervising Analyst, Boston Psychoanalytic Institute; Adjunct Associate Professor of Psychology, Boston University; and Assistant Clinical Professor of Psychology, Department of Psychiatry, Harvard Medical School. She serves on the editorial board of the Journal of the American Psychoanalytic Association and has written extensively about the analyst-patient match and the outcome of psychoanalysis.
Inhaltsangabe
Introduction I. Prologue 1. The Project II. Ways of Knowing 2. Forms of Self-Exploration: Different Analysts
Different Modes of Exploration 3. Triggers for Self-Knowledge: How Analysts Recognize an Aspect of Themselves Requiring Further Self-Reflection 4. Pathways to Self-Knowledge: Private Reflections
Shared Communications
and Work with Patients III. Changes in the Analyst 5. Similarity of Affect
Conflict
Defense
or Situation 6. Admiration for Qualities or Chacteristics of Patients 7. Patients' Interpretations of the Analyst 8. Countertransference Response as Stimuli for Self-Reflection 9. The Therapeutic Process for the Analyst 10. Therapeutic Action of Psychoanalysis: Exploration of Its Impact on the Analyst 11. The Darker Side: The Potential Negative Impact of Patients on Their Analysts IV. Epilogue 12. Concluding Thoughts