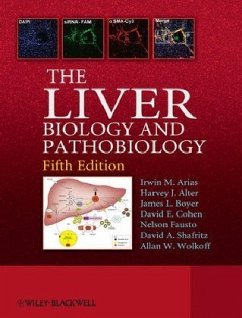 The Liver
Biology and Pathobiology
Herausgegeben von Arias, Irwin; Wolkoff, Allan; Boyer, James; Shafritz, David; Fausto, Nelson
Gebundenes Buch
Sprache: Englisch
versandkostenfrei

innerhalb Deutschlands

Versandfertig in über 4 Wochen

Alle Preise inkl. MwSt.
Andere Kunden interessierten sich auch für
The Liver
In its Fifth Edition, this classic book retains its traditional strength of relating molecular physiology to understanding disease pathology and treatment as it explores the current state and future direction of hepatology.
Painstakingly revised, this edition includes 60 new chapters. As in previous editions, a section called Horizons summarizes advances of extraordinary nature in areas expected to have a substantial impact on hepatology. The Fifth Edition's Horizons section includes emerging topics such as tissue engineering of the liver, liver-directed gene therapy, decoding the liver cancer genome, and imaging cellular proteins and structure.
To preserve essential background information which has not changed while making room for the panoply of major new contributions to understanding of liver disease, 14 chapters from the previous edition are freely available online at gastrohep.com. To view these chapters visit - http://www.gastrohep.com/theliver
Produktinformation
---
Verlag: Wiley & Sons
2011
5. Auflage
Ausstattung/Bilder: 5. Auflage. 2009. 1216 S. 71 SW-Abb., 272 Tabellen. 279 mm
Seitenzahl: 1191
Best.Nr. des Verlages: 14572313000
Englisch
Abmessung: 287mm x 224mm x 71mm
Gewicht: 3350g
ISBN-13: 9780470723135
ISBN-10: 0470723130
Best.Nr.: 27869733
"Who is the targeted audience for this book? This book "anchors" clinical observations on basic sciences and provides clinical significance to basic science; therefore, I recommend it to all clinicians and researchers who from a clinical or basic standpoint want to understand what the liver does under normal and abnormal circumstances ... The reader will find the disbursement worthwhile and the time invested in consulting it rewarding." (Gastroenterological, 1 March 2011)
David Cohen ist Psychologe, Schriftsteller und Filmemacher. Er hat über einhundert Programme für ITV, Channel 4 und andere Sender entwickelt. Er war elf Jahre lang Herausgeber der Psychology News und schreibt nun für zahlreiche Tageszeitungen und Zeitschriften, unter anderem den Guardian, Sunday Business, Harpers & Queen sowie den New Scientist.
Leseprobe zu "The Liver"
EPUB herunterladen
Zur Anzeige wird der
EPUBReader (Firefox PlugIn)
benötigt.
Laden Sie zunächst die Leseprobe herunter. Lokal gespeicherte EPUB-Dateien können Sie über das Firefox-Menü "Datei/Datei öffnen" öffnen oder Sie ziehen die Datei einfach auf das Firefox-Fenster.
Inhaltsangabe
List of Contributors
Preface
Acknowledgements
PART ONE INTRODUCTION
1 Organizational Principles of the Liver
Joe W. Grisham
2 Embryonic Development of the Liver
Roque Bort and Kenneth S. Zaret
PART TWO THE CELLS
3 Microtubules, Actin Filaments and Motor-mediated Vesicular Transport
Ronald R. Marchelletta and Sarah F. Hamm-Alvarez
4 Molecular Motors
Peter Satir
5 Ion Pumps and Molecular Motors: P-, F-, and V-type ATPases
Sarah Bond, Daniel J. Cipriano, and Michael Forgac
6 Hepatocyte Surface Polarity: Its Dynamic Maintenance and Establishment
Lelita T. Braiterman and Ann L. Hubbard
7 Endocytosis as an Essential Process in Liver Function and Pathology
Barbara Schroeder and Mark McNiven
8 Membrane Transport in Hepatocellular Secretion
Susan Chi and Mark McNiven
9 Mitochondria
Kastuei Mitra
10
Nuclear Pore Complex
Joseph S. Glavy
11 Protein Maturation and Processing at the Endoplasmic Reticulum
Ramanujan S. Hegde
12 Protein Degradation and the Lysosomal System
Susmita Kaushik and Ana Maria Cuervo
13 Peroxisome Assembly, Degradation, and Disease
Peter K. Kim
14 Gap and Tight Junctions in Liver: Composition, Regulation, and Function
Takashi Kojima, Norimasa Sawada, Hiroshi Yamaguchi, Alfredo G. Fort, and David C. Spray
SECTION A HEPATOCYTE
15 Copper Metabolism and the Liver
Michael L. Schilsky and Dennis J. Thiele
16 The Central Role of the Liver in Iron Storage and Regulation of Systemic Iron Homeostasis
Tracey A. Rouault, Victor Gordeuk, and Gregory Anderson
17 Disorders of Bilirubin Metabolism
Namita Roy Chowdhury and Jayanta Roy Chowdhury
GH4.
21. The porphyrias
Peter N. Meissner, Richard J. Hift, Ralph E. Kirsch
18
Hepatic fatty acid metabolism and dysfunction David L. Silver
19 Lipoprotein Metabolism and Cholesterol Balance
David E. Cohen
SECTION B BILE SECRETION
20 Bile Acids and the Enterohepatic Circulation
Alan F. Hofmann
21 Hepatocyte Basolateral Membrane Organic Anion Transporters
Jo. H. Choi, John W. Murray, and Allan W. Wolkoff
22 Nuclear Receptors Regulate Bile Acid Synthesis
Guorong Xu and Gerald Salen
GH4.
27. Hormonal regulation of bile secretion
Francis R. Simon
GH4.
28. Nucleotide transport and regulation of bile formation
Richard M. Roman and J. Gregory Fitz
23 The Function of the Canalicular Membrane in Bile Formation and Secretion
Ronald P.J. Oude Elferink and Coen C. Paulusma
24 Apical Recycling of Canalicular ABC Transporters
Yoshiyuki Wakabayashi and Irwin M. Arias
25 Cholangiocyte Functions in Health and Disease: The Ciliary Connection
Anatoliy I. Masyuk, Tatyana V. Masyuk, and Nicholas F. LaRusso
SECTION C SINUSOIDAL CELLS
26 The Hepatic Sinusoidal Endothelial Cell: Morphology, Function, and Pathobiology
Laurie D. DeLeve
GH4.
30. Endothelial and pit cells
Filip Braet, Dianzhong Luo, Ilan Spector, David Vermijlen, Eddie Wisse
27 Fenestrations in the Liver Sinusoidal Endothelial Cell
Victoria C. Cogger and David G. Le Couteur
28 Hepatic Stellate Cells
Marcos Rojkind and Karina Reyes-Gordillo
29 Hepatic Fibrosis
Ram'on Bataller and David A. Brenner
30 Matrix
Giuliano Ramadori and Jozsef Dudas
PART THREE INTERRELATED CELL FUNCTIONS
31 Insulin Resistance
Gerald I. Shulman and Varman Samuel
32 Ca 2+
Signaling in the Liver
M. Fatima Leite, Mateus T. Guerra, and Michael H. Nathanson
GH4.
35 Synthesis of and signalling through D-3 phosphoinositides
Rial A Christensen, Isabel De Aos Scherpenseel, Lyuba Varticovski
GH4.
39. Nitric oxide in the liver
Mark G. Clemens
33 Role of Intracellular Iron Movement and Oxidant Stress in Hepatocellular Injury
John J. Lemasters, Akira Uchiyama, Jae-Sung Kim, Kazuyoshi Kon, and Hartmut Jaeschke
GH4.
18. Hypoxic, Ischemic and reperfusion injury to liver
John J. Lemasters
GH4.
19. Protective mechanisms against reactive oxygen species
Masayasu Inoue
34 Regulatory Pathways of Liver Gene Expression: The Central Role of Cyclic AMP
Giuseppe Servillo, Maria Agnese Della Fazia, and Paolo Sassone-Corsi
35
AMPK: Central Regulator of Glucose and Lipid Metabolism
Maria M. Mihaylova and Reuben J. Shaw
GH3.
16. Energy Metabolism
Sam Seifter and Sasha Englard
36 Liver Regeneration
Nelson Fausto
GH4.
40. Interleukin-6 signaling during the acute-phase response of the liver
Johannes G. Bode, Peter C. Heinrich
GH4.
43. Hepatocyte growth factor: its role in hepatic growth and pathobiology
Reza Zarnegar, Marie C. Defrances, George K. Michalopoulos
37 Ribosome Biogenesis and its Role in Cell Growth and Proliferation in the Liver
Stefano Fumagalli and George Thomas
GH4.
5. Gene regulation and in vivo function of liver transcription factors
Robert H. Costa, AI-Xuan Le Holternan, Francisco M. Rausa, Guy R. Adami
38 Liver Repopulation by Cell Transplantation and the Role of Stem Cells
David A. Shafritz, Michael Oertel, Mariana D. Dabeva, and Markus Grompe
PART FOUR RELATION TO OTHER ORGANS
39 Hepatic Encephalopathy
Roger F. Butterworth and Javier Vaquero
40 The Kidney in Liver Disease
Moshe Levi
41 Critical Role of the Liver in Coagulation
Robert Fathke, Ze Peng, Basil Golding, and Chava Kimchi-Sarfaty
PART FIVE PATHOBIOLOGICAL ANALYSIS
42 Inheritable Cholestatic Disorders
Paul Gissen and Alex S. Knisely
GH4.
48. Alpha 1-Antitrypsin deficiency
David H. Perlmutter
43 Adaptive Regulation of Hepatocyte Transporters in Cholestasis
James L. Boyer
44 Pathogenesis of Portal Hypertension
Roberto J. Groszmann and Juan G. Abraldes
45 Non-alcoholic Fatty Liver Disease: A Pathophysiological Perspective
Michael Fuchs and Arun J. Sanyal
46 Pathophysiology of Alcoholic Liver Disease
Natalia Nieto and Marcos Rojkind
47 Inflammation and Drug-induced Liver Injury
Robert A. Roth and Patricia E. Ganey
48 Hepatocyte Apoptosis
Cynthia R.L. Webster
49 Back to the Future: A Backward Glance at the Forward Progress of Hepatitis Virus Research
Harvey J. Alter
50 Molecular Biology of Hepatitis Viruses
Christoph Seeger, Michael M.C. Lai, and William S. Mason
51 Immune Mechanisms of Viral Clearance and Disease Pathogenesis During Viral Hepatitis
Carlo Ferrari and Mario Mondelli
GH4.
41. Innate immune sensing and the toll-like receptors
Bruce Beutler
52 Clinical Implications of the Molecular Biology of Hepatitis B Virus
Timothy M. Block, Ju-Tao Guo, and Thomas W. London
53 Viral Escape Mechanisms in Hepatitis C and the Clinical Consequences of Persistent Infection
Stanley M. Lemon, Patrizia Farci, and Marc G. Ghany
54 Current and Future Therapy for Hepatitis B and C
Gary L. Davis and Jean-Michel Pawlotsky
55 Biological Principles and Clinical Issues Underlying Liver Transplantation for Virus-induced
End-stage Liver Disease
James R. Burton Jr, Hugo R. Rosen, and Paul Martin
PART SIX HORIZONS
56 Tissue Engineering of the Liver
Gregory H. Underhill, Salman R. Khetani, Alice A. Chen, and Sangeeta N. Bhatia
57 Aging and the Uncertain Roles of Sirtuins
Fred J. Dice
58 The Liver Proteome
Laura Beretta
59 Liver-directed Gene Therapy
Betsy T. Kren, Clifford J. Steer, Namita Roy Chowdhury, and Jayanta Roy Chowdhury
GH4.
63. Novel strategies for manipulating hepatic gene expression in vivo
Marxa L. Figueiredo, Eric P. Sandgren
60 Decoding the Liver Cancer Genome
Ju-Seog Lee and Snorri S. Thorgeirsson
61 Genome-wide Expression Profiling of Human Hepatocellular Carcinoma
Anuradha Budhu and Xin Wei Wang
62 Cell Cycle Control in the Liver
Jeffrey H. Albrecht and Lisa K. Mullany
63 miRNAs and Liver Biology
Charles E. Rogler and Leslie E. Rogler
64 Imaging Cellular Proteins and Structures: Smaller, Brighter, and Faster
Erik Snapp
65 Zebrafish as a Model System for the Study of Liver Development and Disease
Randolph P. Matthews
66 The Hepatocyte and the Cancer Cell: Dr Jekyll and Mr Hyde
Jean-Pierre Gillet, Michael M. Gottesman, and Mitsunori Okabe
67 The Role of Endocannabinoids and Their Receptors in the Control of Hepatic Functions
George Kunos, Douglas Osei-Hyiaman, S'andor B'atkai, P'al Pacher, Bin Gao, Won-Il Jeong, Jie Liu, and Gregorz Godlewski
68 Telomeres and Aging, Cancer, and Hepatic Fibrosis
Hans L. Tillmann, Ruben R. Plentz, Yvonne Begus-Nahrmann, Andr'e Lechel, and Lenhard K. Rudolph
69 Treatment of Cirrhosis with Vitamin A-coupled Liposomes Carrying siRNA against Heat Shock
Protein 47
Yoshiro Niitsu, Yasushi Sato, Kazuyuki Murase, and Junji Kato
70 The "Green Liver" and Transcriptional Regulation of Phase II Detoxification Genes
Christopher Johnson and Jonathan Arias
Index