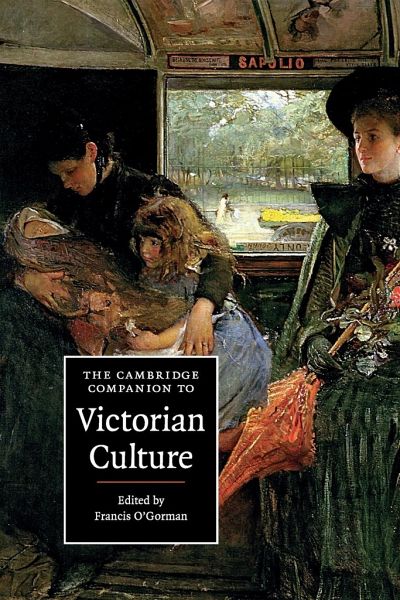 ---
Stimulating and informative new essays on many aspects of nineteenth-century culture. A study of Victorian culture, aiming to provide literature students with in-depth contextual material, and students of history a stimulating overview of the nineteenth century's many innovations and achievements.

The Victorian era produced artistic achievements, technological inventions and social developments that continue to shape how we live today. This Companion offers authoritative coverage of that period's culture and its contexts in a group of specially commissioned essays reflecting the current state of research in each particular field. Covering topics from music to politics, art to technology, war to domestic arts, journalism to science, the essays address multiple aspects of the Victorian world. The book explores what Victorian' has come to mean and how an idea of the Victorian' might now be useful to historians of culture. It explores too the many different meanings of culture' itself in the nineteenth century and in contemporary scholarship. An invaluable resource for students of literature, history, and interdisciplinary studies, this Companion analyses the nature of nineteenth-century British cultural life and offers searching perspectives on their culture as seen from ours.
Produktdetails
Cambridge Companions to Culture
Verlag: Cambridge University Press
Seitenzahl: 326
2010
Ausstattung/Bilder: 2010. 326 p. w. 13 ill. 228 mm
Englisch
Abmessung: 229mm x 153mm x 15mm
Gewicht: 520g
ISBN-13: 9780521715065
ISBN-10: 0521715067
Best.Nr.: 27080112
1. Introduction Francis O'Gorman; 2. Science and culture Bernard V. Lightman; 3. Technology Nicholas Daly; 4. Economics and business Timothy Alborn; 5. War Edward S. Spiers; 6. Music Ruth A. Solie; 7. Theatre Katherine Newey; 8. Popular culture Dennis Denisoff; 9. Satirical print culture John Strachan; 10. Journalism Matthew Rubery; 11. Art Elizabeth Prettejohn; 12. Domestic arts Nicola Humble; 13. Victorian literary theory Anna Maria Jones; 14. The dead Francis O'Gorman; 15. Remembering the Victorians Samantha Matthews; Guide to further reading; Index.