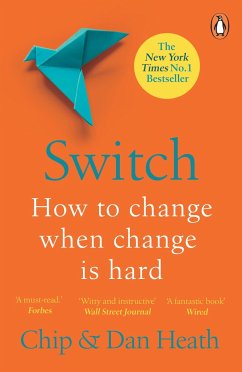 Switch
How to Change Things When Change is Hard
Broschiertes Buch
Sprache: Englisch
versandkostenfrei

innerhalb Deutschlands

EUR 11,95

Sofort lieferbar

Alle Preise inkl. MwSt.
Andere Kunden interessierten sich auch für
Switch
We all know that change is hard. It's unsettling, it's time-consuming, and all too often we give up at the first sign of a setback.

But why do we insist on seeing the obstacles rather than the goal? This is the question that bestselling authors Chip and Dan Heath tackle in their compelling and insightful new book. They argue that we need only understand how our minds function in order to unlock shortcuts to switches in behaviour. Illustrating their ideas with scientific studies and remarkable real-life turnarounds - from the secrets of successful marriage counselling to the pile of gloves that transformed one company's finances - the brothers Heath prove that deceptively simple methods can yield truly extraordinary results.

Produktinformation
---
Verlag: Random House Uk
2011
Ausstattung/Bilder: 2011. 320 S. 198 mm
Seitenzahl: 305
rh Business Books
Englisch
Abmessung: 201mm x 130mm x 23mm
Gewicht: 227g
ISBN-13: 9781847940322
ISBN-10: 1847940323
Best.Nr.: 32110604
"A fantastic book" Wired "Witty and instructive" Wall Street Journal "Switch is likely to prove invaluable to anyone wanting to make long-lasting change a reality" BBC Focus "Whether you're a manager, a parent or a civic leader, getting people to change can be tricky business. In Switch, brothers Chip and Dan Heath - authors of the best-selling Made to Stick - survey efforts to shape human behaviour in search of what works. Even when change isn't easy, it's often worth making" Time "A must-read" Forbes
---
"A fantastic book" Wired
Chip Heath ist Professor für Organizational Behavior an der Graduate School of Business der Stanford University. Er lebt in Los Gatos, Kalifornien.
Ein Marktplatz-Angebot für "Switch" für EUR 5,00
Zustand
Preis
Porto
Zahlung
Verkäufer
Rating
leichte Gebrauchsspuren
5,00
1,50
PayPal, Banküberweisung
ketterwedell
100,0%
ansehen