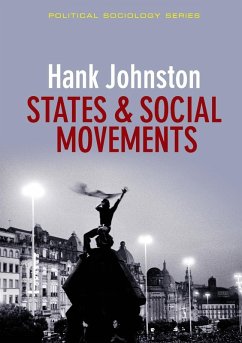 States and Social Movements
Broschiertes Buch
Sprache: Englisch
versandkostenfrei

innerhalb Deutschlands

Versandfertig in über 4 Wochen

Alle Preise inkl. MwSt.
Andere Kunden interessierten sich auch für
States and Social Movements
Since the late eighteenth century, politics, protest, and the state have evolved together, each shaping the other in significant ways. This engaging and succinct treatment of protest?state interaction shows how the modern national state developed in tandem with social movement mobilization, arguing that to understand the state fully, you cannot ignore the role of political protest.
Today, social movements are an integral part of politics: modern democratic states are, in reality, social movement societies, and protest mobilization permeates how politics is regularly accomplished. States and Social Movements presents a balanced and comprehensive assessment of various theories of social movements, engaging both state-centered approaches, and cultural and agency-based perspectives. Hank Johnston takes a broad view, analyzing democratic transitions and revolutions, how protest occurs in repressive states, and concluding with an exploration of the emerging repertoire of global social movements, where these movements come from, and if they spell the end of the modern state as we know it.
States and Social Movements cuts to the core of how social movements interact with all types of state system to produce variable outcomes such as democracy, policy reform, repression, insurrection, and revolution. As such, it is essential reading for students and scholars of sociology and political science interested in the important research area of contentious politics.
Produktinformation
---
Verlag: Wiley & Sons
2010
1. Auflage
Ausstattung/Bilder: 1. Auflage. 2010. 200 S.
Seitenzahl: 200
PPSS - Polity Political Sociology series
Best.Nr. des Verlages: 1A745646270
Englisch
Abmessung: 206mm x 145mm x 18mm
Gewicht: 324g
ISBN-13: 9780745646275
ISBN-10: 0745646271
Best.Nr.: 32567937
"Globalization has not reduced the importance of the state for social movements as actors of a politics by other means. In this clearly written and well-researched volume, Hank Johnston builds upon the best scholarship on social movements, adding an innovative perspective in particular on the dynamics of protest in non-democratic regimes and democratizing polities." Donatella Della Porta, European University Institute "Movements shape states, and states shape movements. Hank Johnston adds depth and nuance to this insight by examining a wide range of state forms and political protest - including revolutionary movements and transnational activism. Along the way, he provides a lucid overview of different theoretical perspectives on movements. The result is an excellent short introduction to social movement studies." Jeff Goodwin, New York University "This book is an outstanding synthesis of a diverse and difficult body of work. It is unique among surveys of social movements in balancing coverage of protests in both democratic and authoritarian societies, in its even-handed treatment of the relations between globalization and protest, and in giving substantial and well thought out space to revolutions." Jack A. Goldstone, George Mason University
Hank Johnston is Associate Professor of Sociology at San Diego State University.
Inhaltsangabe
Chapter 1: The State, Protest, and Social Movements
Chapter 2: Protest in Contemporary Democracies
Chapter 3: The Social Movement Society
Chapter 4: Repressive States and Protest
Chapter 5: Revolutions and States
Chapter 6: Globalization, Protest, and the State
References
---
Inhaltsangabe
Chapter 1: The State
Protest
and Social Movements Chapter 2: Protest in Contemporary Democracies Chapter 3: The Social Movement Society Chapter 4: Repressive States and Protest Chapter 5: Revolutions and States Chapter 6: Globalization
Protest
and the State References