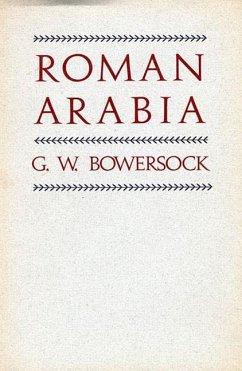 Roman Arabia
Broschiertes Buch
Sprache: Englisch
versandkostenfrei

innerhalb Deutschlands

Versandfertig in über 4 Wochen

Alle Preise inkl. MwSt.
Andere Kunden interessierten sich auch für
Roman Arabia
The Roman province of Arabia occupied a crucial corner of the Mediterranean world, encompassing most of what is now Jordan, southern Syria, northwest Saudi Arabia, and the Negev. Mr. Bowersock's book is the first authoritative history of the region from the fourth century B.C. to the age of Constantine. The book opens with the arrival of the Nahataean Arabs in their magnificent capital at Petra and describes the growth of their hellenized culture based on trade in perfume and spices. It traces the transformation of the region from an Arab kingdom under Roman influence into an imperial province, one that played an increasingly important role in the Roman strategy for control of the Near East. While the primary emphasis is on the relations of the Arabs of the region with the Romans, their interactions with neighboring states, Jewish, Egyptian, and Syrian, are also stressed. The narrative concludes with the breakup of the Roman province at the start of the Byzantine age.
Produktinformation
---
Verlag: HARVARD UNIV PR
1998
Seitenzahl: 258
Englisch
Abmessung: 217mm x 141mm x 14mm
Gewicht: 313g
ISBN-13: 9780674777569
ISBN-10: 0674777565
Best.Nr.: 21546816
This is an important and exceedingly useful work, informed and informative, based on a wide knowledge of ancient evidence and modern scholarship, and offers a rich store of suggestions. -- T. R. S. Broughton Phoenix One of the finest scholars of the Empire has turned to the study of a province, toiled for a decade and a half over its rich archaeological, textual, and geographical sources, and come forth with a wide-ranging, insightful, and reliable history. -- M. P. Speidel Classical Philology A definitive history of Roman Arabia which will remain so for a very long time to come...[It offers] Roman provincial history and also a history of that talented Arab people, the Nabataeans, not in isolation but in the context of the Hellenistic and Roman orbits into which the Nabataeans were drawn...It is only historians of the caliber of Glen Bowersock who can write such histories because in addition to being established Roman historians, they have gone out of their way to master [the] languages of the Semitic Orient. -- Irfan Shahid Journal of the American Oriental Society An indispensable manual...Roman Arabia is more than an excellent history of a Roman province. It includes discussion of major problems of Roman, Arab, and broader Middle Eastern history...It contains important materials for any scholar interested in the background to the rise of Islam. -- Walter Emil Kaegi, Jr American Historical Review
G. W. Bowersock is Professor Emeritus of Ancient History at the Institute for Advanced Study, Princeton.
Inhaltsangabe
Preface
Abbreviations
1. The Region
2. The Coming of the Nabataeans
3. Pompey and his Successors
4. The Early Principle
5. The Flowering of Nabataea
6. The New Province
7. Boundaries and Defenses
8. The Impact of Septimius Severus
9. From Philip to Zenobia
10. King of all the Arabs
Appendixes
1. The New Inscription from Baraqish
2. Nabataeans and Romans in the Wadi Sirhan
3. The Governors of Arabia
4. Ancient Maps of Roman Arabia
Plans
Plates
Bibliography
Index