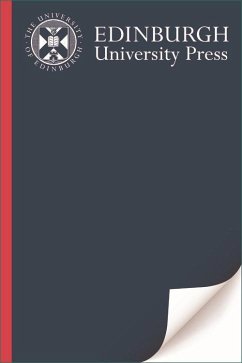 Red Scotland? the Rise and Decline of the Scottish Radical Left, 1880s-1930s
Herausgeber: Boundas, Constantin V.
Gebundenes Buch
Sprache: Englisch
versandkostenfrei

innerhalb Deutschlands

Versandfertig in über 4 Wochen

Alle Preise inkl. MwSt.
Andere Kunden interessierten sich auch für
Red Scotland? the Rise and Decline of the Scottish Radical Left, 1880s-1930s
An excellent resource for teaching and learning, this book explores the rise and decline of left radicalism in Scotland c.1872 to 1932. A journey through these turbulent times observes the response of Scottish artisans to legal restrictions on trade-union activities in the 1870s, trade union formation among the unskilled from the late 1880s, and the origins and impact of the Scottish socialist movement.

The Labour movement in Scotland was to face many new challenges by the twentieth century. During the era of 'Red Scotland', 1910 to 1922, we see Scottish workers fully engaged in the labour and social unrest in the years before the Great War; monitor the incubation of workers' grievances during the war; see the growth of the anti-war movement and the influence of revolutionary politics from 1918; and witness Scottish Labour on the threshold of an extraordinary political breakthrough by 1922. The 1920s saw the rapid rise of Labour, but growing unemployment and a massive emigration of Scottish workers helped to fragment the left and set in motion the decline of left radicalism in Scotland. This book represents a major and up to date survey of the most dramatic years in the history of Scottish Labour.

Key Features:
- Provides comprehensive coverage of the period introducing new research sources and plugging gaps in current literature with case studies
- Case studies provide detailed examination of important topics; 'new unionism'; strike and political action; quantitative method, 1910-14; new archive sources on 'revolutionary politics'
- Provides case studies and regional comparative studies approach towards a better understanding of the main themes in the history of Scottish Labour
- Two chapters look at the themes and issues concerned with writing Labour history
Produktinformation
---
Verlag: EDINBURGH UNIV PR
2007
Ausstattung/Bilder: 240 p. - 234 x 156 mm
Seitenzahl: 224
Altersempfehlung: ab 22 Jahre
Englisch
ISBN-13: 9780748625178
ISBN-10: 0748625178
Best.Nr.: 22601474
William Kenefick
Inhaltsangabe
Contents
Acknowledgements
List of Tables
List of Abbreviations
Introduction
1. Radical Scotland c. 1872 to 1914
Writing Labour and Social History - I: Themes and Contested Issues
2. Industrial Radicalism and the New Unionism c.1872 to 1914
3. Left Radicalism, Labour and Socialism 1872 to 1914
4. Red Scotland c. 1910 to 1932
Writing Labour and Social History - II: Themes and Contested Issues
5. Labour Unrest, 1910 to 1914
6. War Resisters and Anti-conscription
7. War and Revolution and the Scottish Working Class
8. Radicalism in Decline c.1920 to 1932
Epilogue: On Radicalism- And Exporting Scottish Left Radicalism
Bibliography
Index.