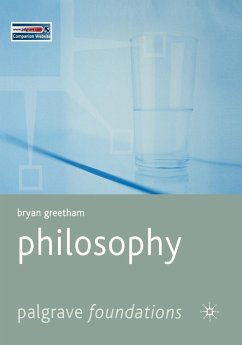 Philosophy
Broschiertes Buch
Sprache: Englisch
Weihnachts-Garantie: Jetzt bestellt - rechtzeitig geliefert!
versandkostenfrei

innerhalb Deutschlands

Sofort lieferbar

Alle Preise inkl. MwSt.
Andere Kunden interessierten sich auch für
Philosophy
This is a clear, accessible introduction to the method and subject of Philosophy. Written to meet the needs of students, there are clear note structures at the end of each chapter to help students use the ideas confidently, with movements in thought represented on intellectual maps that will allow them to see how each fits into the whole. The text is enriched with fascinating insights into the lives and ideas of philosophers, which makes it an absorbing read.
Produktinformation
---
Verlag: Palgrave Macmillan
2006
Ausstattung/Bilder: 456 pages
Englisch
Abmessung: 246mm x 190mm x 28mm
Gewicht: 884g
ISBN-13: 9781403918789
ISBN-10: 1403918783
Best.Nr.: 21797434
BRYAN GREETHAM is a Researcher at the University of Hull, UK, having previously taught at the University of Newcastle, Australia and the University of Maryland, USA. He is author of the best-selling How to Write Better Essays (Palgrave Macmillan, 2001).
Inhaltsangabe
Introduction
The Subject
The Method
Hypothesizing
The Method
Testing for Validity
The Method
Testing for Truth
PART 1: OUR KNOWLEDGE OF THE EXTERNAL WORLD
Knowledge
Truth
Scepticism
Perception
Rationalism and Empiricism
Perception
Idealism and Phenomenalism
Explanations
Purposive and Causal Explanations
Explanations
Confirming and Falsifying Theories
Religion
Reason and Faith
PART 2: UNDERSTANDING THE INDIVIDUAL
The Mind and Mental Events
The Problem of Dualism
The Essence of Self
Creating the Self
Determinism and Freedom
Freedom in Context
Responsibility and Punishment
PART 3: UNDERSTANDING OUR RELATIONS WITH OTHERS
Metaethics
Normative Ethics: Deontology
Normative Ethics: Consequentialism and Virtue Ethics
Politics: Legitimacy and the State
Politics: The Extent of Power
Politics: Forms of Government
Politics: Political Theories
Conclusion
Glossary
Bibliography
Index