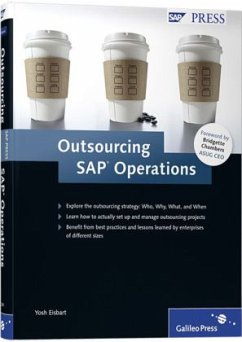 Outsourcing SAP Operations
Gebundenes Buch
Sprache: Englisch
versandkostenfrei

innerhalb Deutschlands

Sofort lieferbar

Alle Preise inkl. MwSt.
Andere Kunden interessierten sich auch für
Outsourcing SAP Operations
This book is your A-to-Z guide to outsourcing your SAP operations. It explains every aspect relevant for decision-makers to decide if, when, what. and how to outsource production support.

The author carefully ponders all outsourcing models - from outsourcing targeted SAP solutions to complete landscapes. He explains the pro s and the con s of every option, and helps you to understand the risks and the potentials. Case studies from large SAP organizations illustrate the different models and help you in making decisions easily and quickly.
Produktinformation
---
Verlag: Galileo Press
2009
1. neue Auflage
Ausstattung/Bilder: 2009. 330 p.
Seitenzahl: 379
SAP Press
Englisch
Abmessung: 239mm x 189mm x 30mm
Gewicht: 855g
ISBN-13: 9781592292844
ISBN-10: 1592292844
Best.Nr.: 26149702
Yosh Eisbart began his SAP career in 1995 as a consultant for Ernst & Young (now Cap Gemini). Today, he s Director of the SAP Service Line/SAP Consulting Services at Comsys, an IT service provider and consulting firm with headquarters in Houston, TX. During his 14 years of SAP consulting he s worked on numerous SAP implementations across the globe and with only few exceptions every project has leveraged outsourcing in some capacity. Yosh is intimately familiar with the decision-making process, application, pro s/con s, engagement arrangements, relationship construct, etc. Yosh has been involved in both the decision on whether to employ this alternative (in numerous forms), and how it actually operates.
Yosh also published on the topic of outsourcing and others multiple times (among others, for SAP NetWeaver Magazine) and speaks at conferences.
Inhaltsangabe
Foreword by Bridgette Chambers, ASUG CEO
15
Preface
19
Introduction
27
1
Who -- Determining Whether Outsourcing is Right for Your Organization
35
1.1
Corporate Culture and Executive Influence
37
1.2
SAP Components Best-Suited for Outsourcing
38
1.3
SAP Components not Best-Suited for Outsourcing
41
1.4
Limits of Full-Time Employee Hiring/Quick Hit Temporary Project Work
43
1.5
Organization Size
43
1.6
SAP as Software: Its Complexity, Integration, and Inherent Challenges
46
1.7
Summary: The Perfect Organization Best-Suited for SAP Outsourcing
47
2
Why -- Potential Reasons why Outsourcing Might Make Sense for Your Organization
49
2.1
Cost
49
2.2
Objectivity
50
2.3
Expertise
51
2.4
Inherent Standardization Advantage
54
2.5
Specific SAP Initiatives
57
2.6
Focus on Internal Core Capabilities
63
2.7
Reasons Why NOT to Outsource your SAP Operations
65
2.8
Summary
66
3
What is SAP Outsourcing? The Various Flavors
67
3.1
Baseline: The Various Flavors of SAP Outsourcing
67
3.2
Specific SAP Outsourcing Models
79
3.3
Summary
90
4
When -- Timing and Transition
91
4.1
Choosing the Proper Timeframe
91
4.2
Timing for Post-Production Support Outsourcing
92
4.3
SAP Methodologies' Impact on Timing
95
4.4
Managing Change
99
4.5
Control Advisory Board
103
5
Implementations and Upgrades
107
5.1
ASAP (Focus) Methodology
107
5.2
Outsourcing by ASAP Phase
111
5.3
Using SAP Solution Manager during Implementations
123
5.4
Using the Custom Development Management Cockpit (CDMC) for Upgrade Preparation
135
6
Production Support
139
6.1
SAP Production Support Models
139
6.2
SAP's Run SAP Methodology and its Advantages
144
6.3
SAP Enterprise Support
148
6.4
SAP Business Processes and Technical Areas that Work Well for Outsourced Production Support
151
6.5
Tools to Optimize your Production Support Center
153
6.6
Managing Work Effort
163
7
Global Delivery
171
7.1
The Basics
171
7.2
Center of Excellence (COE)
175
7.3
The Rise of the Customer Competence Center and the Center of Expertise
178
7.4
Summary
182
8
Engagement Construct
183
8.1
Primary Models
184
8.2
The Role of Key Management
196
8.3
Conclusion
201
9
Selecting a Partner
203
9.1
Understanding What You Need (not Want)
204
9.2
Overview of Various SAP Partner Types
204
9.3
Establishing Baseline Criteria
207
9.4
The Selection Process Lifecycle
213
9.5
The RFX -- Structured Deliverables Used in the Selection of a Partner
218
9.6
SAP Accreditations
226
9.7
Screening Process
231
9.8
Alternative Sourcing Models
234
9.9
Exit Strategy
239
10
Large Enterprise
243
10.1
Unique Large Enterprise advantages and their Maximization
243
10.2
The Role of SAP in the Large Enterprise World
248
10.3
Strong SAP Alignment
250
10.4
Bleeding-Edge SAP Technology
251
10.5
Large Enterprise Consultant Modeling
253
10.6
Summary
255
11
The Midmarket Space
257
11.1
Unique Midmarket Challenges
258
11.2
The SAP Super-Super User Alternative
263
11.3
Stretching your SAP Dollar: Outsourcing Options
265
11.4
Summary
273
12
The Value of IT Standardization
275
12.1
Why bother with standardization?
276
12.2
Implementing Strong IT Practices -- IT Process Frameworks, Industry Standards, and Other Tools
277
12.3
A Simple, Common Sense Approach to IT Process Standardization and Improvement
283
12.4
Standardization in SAP Environments
290
12.5
IT Processes -- Where to Start
292
12.6
Other Tools for IT Process Standardization
297
12.7
Summary
300
13
The Role of the Integration Manager
303
13.1
The Integration Manager: A Definition
304
13.2
An Integration Manager's Persona: Characteristics and Attributes
306
13.3
The Role of the Integration Manager and the Relationship to the Control Advisory Board
307
13.4
Necessity versus Nicety
311
13.5
The Integration Manager from your Offsite Partner
313
13.6
The Integration Manager's Counterpart: The Offsite Delivery Support Manager
315
13.7
Summary
315
14
Service Level Agreements
317
14.1
Establishing SLAs
318
14.2
SLA Supporting Tools
323
14.3
SLA Guidelines and Determining Factors
325
14.4
Summary
329
15
Conclusion
331
A
Sample Request For Information Document
339
B
Sample Request for Proposal
347
C
Sample Statement of Work
361
D
SAP Screening Process
369
E
The Author
371
Index
373