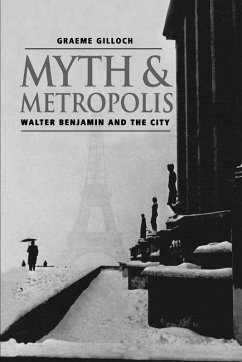 Myth & Metropolis
and
Broschiertes Buch
Sprache: Englisch
versandkostenfrei

innerhalb Deutschlands

Versandfertig in über 4 Wochen

Alle Preise inkl. MwSt.
Andere Kunden interessierten sich auch für
Myth & Metropolis
aeo A timely and highly accessible study of Walter Benjamin, one of the most original and perceptive thinkers of the twentieth century. aeo The author sheds new light on Benjamina s lifelong fascination with the city by examining a number of key texts, including those of Naples, Marseilles, Moscow, Paris and Berlin.
Produktinformation
---
Gewicht: 380g
ISBN-13: 9780745620107
ISBN-10: 0745620108
Best.Nr.: 13710592
"This is a highly stimulating contribution to our understanding of Benjamina s work on the city. It is one which is written with a commendable clarity that makes Benjamina s often complex investigations accessible to students without losing the rich textual diversity of Benjamina s own presentation of the citya s labyrinths." ---- Professor David Frisby, Glasgow University "Walter Benjamin and his work on the metropolis is the topic of a new study by Graeme Gilloch, a study so rigorous in its scholarship and penetrating in its observations that it rises above the recent plethora of lesser works on Benjamin. This elegant study now displaces Susan Buck--Morssa s Dialectics of Seeing as the most authoritative work on Benjamin and the city. Gilloch situates Benjamina s discussion of the city within his overall theoretical outlook, evocatively highlighting the surrealist, Marxist and Freudian impulses in Benjamin. The result is as convincing as it is charming." (Building Design) "[A] close and sensitive reading of Benjamin ... Since Gillocha s book is clearly and lucidly written, it can be recommended for teaching for students, although it is also an interesting and indeed valuable commentary in its own right." (Urban Studies) "Graeme Gillocha s excellent book now offers a comprehensive overview of Benjamina s urban preoccupations, which will be essential reading for anyone seeking a detailed account of Benjamina s complex relationship with the city. The whole book is an exemplary study and can be thoroughly recommended ... probably the most accessible recent book on Benjamina s thought available to the advanced undergraduate student. This is a book of exemplary scholarship which will become a central resource for advancing our understanding both of Benjamina s work and urban theory in future years." (Environment and Planning) "Remarkable and scholarly book, a work of almost overwhelming erudition and full of incisive observations ... perceptive interpretation ... elegant and highly readable. An excellent example of concise writing which, given the often contradictory nature of Benjamina s work, must have been a major task. The ease with which Gilloch disentangles Benjamina s thought processes leads one to suspect a superficiality of approach but this is far from the case. Gillocha s masterful analysis now displaces Susan Buck--Morssa s book as the definitive work on Benjamin and the city. Benjamina s message is as relevant today as when it was written, providing the historian, design or otherwise, with the most incisive commentrary on the experience of modernity yet to be written." (The Journal of Design History) "Urban historians will be indebted to Gilloch for his labours. What he has done ... is to make one of the classic texts on the modern city more accessible to those not steeped in the Benjamin A"uvre." (Urban History)
Leseprobe zu "Myth & Metropolis" von Graeme Gilloch
EPUB herunterladen
Zur Anzeige wird der
EPUBReader (Firefox PlugIn)
benötigt.
Laden Sie zunächst die Leseprobe herunter. Lokal gespeicherte EPUB-Dateien können Sie über das Firefox-Menü "Datei/Datei öffnen" öffnen oder Sie ziehen die Datei einfach auf das Firefox-Fenster.
Inhaltsangabe
Acknowledgements. List of Abbreviations. Introduction. 1. Urban Images: From Ruins to Revolutions. 2. Urban Memories: Labyrinth and Childhood. 3. Dialectical Images: Paris and the Phantasmagoria of Modernity. 4. Urban Allegories: Paris, Baudelaire and the Experience of Modernity. Conclusion. Notes. Biography. Index.