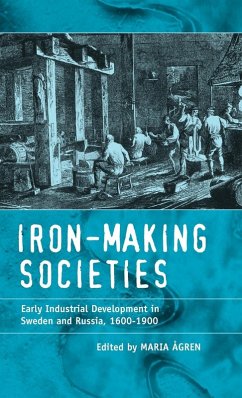 Iron-Making Societies: Early Industrial Development in Sweden and Russia, 1600-1900
Herausgeber: Agren, Maria
Gebundenes Buch
Sprache: Englisch
versandkostenfrei

innerhalb Deutschlands

Versandfertig in über 4 Wochen

Alle Preise inkl. MwSt.
Andere Kunden interessierten sich auch für
Iron-Making Societies: Early Industrial Development in Sweden and Russia, 1600-1900
The title of this book has a double meaning: on the one hand, it deals with two very different societies both of which made iron in the early modern period. On the other hand, iron "made" these societies: the needs of iron production and the resistance to these demands from local peasant communities gave the societies a special kind of cohesion.
Produktinformation
---
Gewicht: 576g
ISBN-13: 9781571819550
ISBN-10: 157181955X
Best.Nr.: 34111490
"[The results of the Russian-Swedish research team] are presented an exemplary fashion and rigorously edited ... Whoever is interested in the industrial development of European economy and society should read this book." * Vierteljahrschrift fur Sozial- und Wirtschaftsgeschichte "... very well written, clearly arranged and interesting and easy to read ... an important study." * Eva A-sterberg, Professor of History, University of Lund.
Maria A...gren, Department of History, Uppsala University
Inhaltsangabe
List of Illustrations Preface Acknowledgements List of Abbreviations
PART I
Chapter 1.Introduction: Swedish and Russian Iron-Making As Forms of Early Industry
Maria A...gren
Chapter 2. Iron-Making in Peasant Communities
Maria Sjoberg with Anton Tomilov
Chapter 3. The Social Organisation of Work at Mines, Furnaces and Forges
Anders Floren and Goran Ryden with Ludmila Dashkevich, D.V. Gavrilov and Sergei Ustiantsev
PART II: INTEGRATION OF THE AGRARIAN ENVIRONMENT IN IRON PRODUCTION
Chapter 4. The Social Organisation of Peasant Work
Maria A...gren with Nina Minenko and Igor Poberezhnikov
Chapter 5. Charcoal: Production and Transport
Maths Isacson with Igor Poberezhnikov
Chapter 6. Households, Families and Iron-Making
Goran Ryden with Svetlana Golikova
PART III: THE INSTITUTIONAL ENVIRONMENT AND HOW IT CHANGED
Chapter 7. Community and Property
Maria A...gren with Vladimir Zhelezkin and Vladimir Shkerin
Chapter 8. Knowledge: Its Transfer and Reproduction in Occupations
Rolf Torstendahl with Ludmila Dashkevich and Sergei Ustiantsev
Chapter 9. Iron-Making Societies: The Development of the Iron Industry in Sweden and Russia, 1600-1900
Anders Floren
Glossary
Notes on Contributors
Bibliography
Index