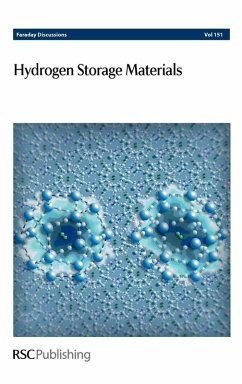 Hydrogen Storage Materials: Faraday Discussions No 151
Gebundenes Buch
Sprache: Englisch
versandkostenfrei

innerhalb Deutschlands

Versandfertig in über 4 Wochen

Alle Preise inkl. MwSt.
Andere Kunden interessierten sich auch für
Hydrogen Storage Materials: Faraday Discussions No 151
A General Discussion on Hydrogen Storage Materials was held at the Rutherford Appleton Laboratory, Didcot, Oxon, United Kingdom on 18th, 19th and 20th April 2011.
Produktinformation
---
Gewicht: 728g
ISBN-13: 9781849732369
ISBN-10: 1849732361
Best.Nr.: 33825220
Inhaltsangabe
Preface
Introductory Lecture
Pore with gate: modulating hydrogen storage in metal-organic framework materials via cation exchange
The effect of host relaxation and dynamics on guest molecule dynamics in H2/tetrahydrofuran-hydrate
The role of Ni in increasing the reversibility of the hydrogen release from nanoconfined LiBH4
Analysis of hydrogen storage in nanoporous materials for low carbon energy applications
Characterisation of porous hydrogen storage materials: carbons, zeolites, MOFs and PIMs
General discussion
Synthesis of small metallic Mg-based nanoparticles confined in porous carbon materials for hydrogen sorption
The effect of complex halides and binary halides on hydrogen release for the 2LiBH4:1MgH2 system
Incorporating magnesium and calcium cations in porous organic frameworks for high-capacity hydrogen storage
Control of hydrogen release and uptake in amine borane molecular complexes: thermodynamics of ammonia borane, ammonium borohydride, and the diammoniate of diborane
Probing the binding and spatial arrangement of molecular hydrogen in porous hosts via neutron Compton scattering
General discussion
Mobility and dynamics in the complex hydrides LiAlH4 and LiBH4
Novel sodium aluminium borohydride containing the complex anion [Al(BH4,Cl)4]-
Theoretical study of the vibrational properties of NaAlH4 with AlH3 vacancies
Synthesis of LiNH2 + LiH by reactive milling of Li3N
In situ powder neutron diffraction study of non-stoichiometric phase formation during the hydrogenation of Li3N
Hydrogen storage and ionic mobility in amide---halide systems
General discussion
Homogenous dehydrogenation of liquid organic hydrogen carriers catalyzed by an iridium PCP complex
YMn2Hx and RMn2FeyH6 (R Y, Er) studied by Raman, infrared and inelastic neutron
scattering spectroscopies
Hydride formation in Mg-based systems processed by reactive milling
Performance of a full-scale hydrogen-storage tank based on complex hydrides
Performance of a metal hydride store on the '"Ross Barlow'" hydrogen powered canal boat
A multidisciplinary combinatorial approach for tuning promising hydrogen storage materials
towards automotive applications
General discussion
Effective hydrogen storage: a strategic chemistry challenge
Poster titles
List of participants
Index of contributors