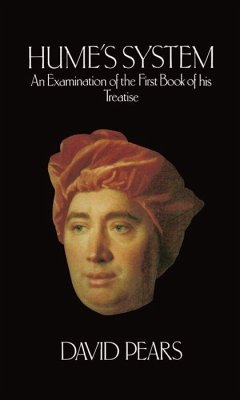 Hume's System
Gebundenes Buch
Sprache: Englisch
versandkostenfrei

innerhalb Deutschlands

Versandfertig in über 4 Wochen

Alle Preise inkl. MwSt.
Andere Kunden interessierten sich auch für
Hume's System
In this book, Professor Pears examines the foundations of Hume's system as laid down in the first book of his Treatise, where his ideas are presented in their first fresh and undiluted form. The author steers a middle course between the two extreme views adopted in recent writings on Hume: that he relies exclusively on a theory of meaning, or that he relies exclusively on a theory of truth and evidence. Professor Pears argues that Hume's theory of ideas serves both functions, and he examines in detail its application to three difficult problems: causation, personal identity, and sense-perception. Hume's solutions are shown not to be theories which can be given a place in a standard classification of philosophical theories, but rather to depend upon a subtle form of naturalism not altogether unlike Wittgenstein's naturalism.

Table of contents:
I: Hume's General Theory of Mind: A General Account of Hume's Theory of Mind; The Derivation of Ideas from Impressions; Memory; Belief and Existence; II: The Application of the Theory of Mind to Three Problems: Causation Personal Identity and Perception: Causation: The Evidence and its First Effect on Us; Causation: The Gap Between Evidence and Belief; Causation: The Second Effect of the Evidence; Personal Identity: The Problem an Hume's Rejection of Current Solutions; Personal Identity: Hume's solution and his later Recantation; Sense-Perception: Hume's Assessment of the Problem and his Strategy for Eliminating Current Solutions; Sense Perception: Hume's Heroic Solution

This lucid study of the foundation of Hume's system differs from other books on the subject by steering a middle course between two popular but extreme views: that Hume's relies exclusively on a theory of meaning and that he relies exclusively on a theory of truth and evidence. Unlike other studies, too, Pears concentrates on the first book of Hume's Treatise, which is where his ideas were presented in a fresh and undiluted form. Hume is essential reading for all students of philosophy, and the book covers several topics which are encountered on a philosophy course (see market).
Produktinformation
---
Verlag: OXFORD UNIV PR
1996
Ausstattung/Bilder: 216 pages
Seitenzahl: 220
Englisch
Abmessung: 216mm x 140mm x 16mm
Gewicht: 426g
ISBN-13: 9780198751007
ISBN-10: 0198751001
Best.Nr.: 21712130
"The book will prove very useful as an aid in teaching. (It reads as if it grew from lecture notes)...Fine expository strategy."--Philosophy and Phenomenological Research
Inhaltsangabe
I: Hume's General Theory of Mind: A General Account of Hume's Theory of Mind
The Derivation of Ideas from Impressions
Memory
Belief and Existence
II: The Application of the Theory of Mind to Three Problems: Causation Personal Identity and Perception: Causation: The Evidence and its First Effect on Us
Causation: The Gap Between Evidence and Belief
Causation: The Second Effect of the Evidence
Personal Identity: The Problem an Hume's Rejection of Current Solutions
Personal Identity: Hume's solution and his later Recantation
Sense-Perception: Hume's Assessment of the Problem and his Strategy for Eliminating Current Solutions
Sense Perception: Hume's Heroic Solution