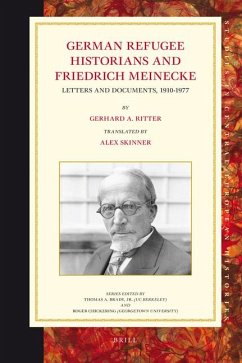 German Refugee Historians and Friedrich Meinecke: Letters and Documents, 1910-1977
Übersetzer: Skinner, Alex
Gebundenes Buch
Sprache: Englisch
versandkostenfrei

innerhalb Deutschlands

EUR 143,95

Versandfertig in über 4 Wochen

Alle Preise inkl. MwSt.
Andere Kunden interessierten sich auch für
German Refugee Historians and Friedrich Meinecke: Letters and Documents, 1910-1977
The book deals with the relationship between Friedrich Meinecke, who is often considered to be the leading German historian of the first half of the twentieth century, and several of his students who, after the Nazi seizure of power, were forced to emigrate because of their Jewish descent or their political views. The letters published here to Meinecke from Hans Rothfels, Dietrich Gerhard, Hajo Holborn, Felix Gilbert, Hans Rosenberg, and others show these scholars' deep respect for their old teacher, but also their growing distance from his historical interests and methods. In a period of struggle between democracy and Nazi dictatorship, the letters address the problems of emigration and remigration, German-Jewish and German-American identity, and historiography in both Germany and the United States.
Produktinformation
---
Gewicht: 989g
ISBN-13: 9789004184046
ISBN-10: 900418404X
Best.Nr.: 29472257
Gerhard A. Ritter, emeritus professor of Modern History at the Ludwig-Maximilians-University in Munich. His most recent books deal with the social history of Germany, the comparative history of the welfare state, the reunification of Germany in 1989/90, and problems of historiography.
Foreword
Introduction: Friedrich Meinecke and his emigre students
I. Meinecke as historian and political contemporary
II. Meinecke as academic teacher
III. Meinecke's emigre students
1. Hans Rothfels
2. Dietrich Gerhard
3. Gerhard Masur
4. Hajo Holborn
5. Felix Gilbert
6. Hans Baron
7. Helene Wieruszowski
8. Hans Rosenberg
9. Hedwig Hintze
10. Eckart Kehr
11. Hanns Gunther Reissner
12. Gustav Mayer
IV. Meinecke, his emigre students and relations between the discipline of history in Germany and the United States
Documents List of documents I. Hans Rothfels
II. Dietrich Gerhard
III. Gerhard Masur
IV. Hajo Holborn
V. Felix Gilbert
VI. Hans Baron
VII. Helene Wieruszowski
VIII. Hans Rosenberg
IX. Hedwig Hintze
X. Eckart Kehr
XI. Hanns Gunther Reissner
XII. Gustav Mayer
Illustrations Sources and bibliography
Index of names