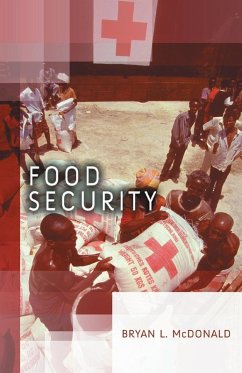 Food Security
Broschiertes Buch
Sprache: Englisch
versandkostenfrei

innerhalb Deutschlands

Versandfertig in über 4 Wochen

Alle Preise inkl. MwSt.
Andere Kunden interessierten sich auch für
Food Security
Throughout history, human societies have struggled to ensure that all people have access to sufficient food to lead active and healthy lives. Despite great global effort, events of the early 21st century clearly demonstrate that food remains a pressing challenge which has significant implications for security. In this book, Bryan McDonald explores how processes of globalization and global change have reshaped food systems in ways that have significant impacts for the national security of states and the human of communities and individuals. Over the past few decades, local, regional, and national food systems have increasingly become intertwined in an emerging global food network. This complex web of relations includes the production, harvest, processing, transport, and consumption of food. While this global food network provides new opportunities for improving health and well-being, it also gives rise to new sources of security threats and vulnerabilities. This detailed and comprehensive introduction to the major issues impacting global food security will be essential reading for students and scholars in security studies, international politics, and environmental studies.
Produktinformation
---
Verlag: Wiley & Sons
2010
1. Auflage
Ausstattung/Bilder: 1. Auflage. 2010. 200 S.
Seitenzahl: 205
Best.Nr. des Verlages: 1A745648080
Englisch
Abmessung: 215mm x 139mm x 17mm
Gewicht: 286g
ISBN-13: 9780745648088
ISBN-10: 0745648088
Best.Nr.: 31187555
"In this crisply written, insightful book, McDonald brings our notions of security up to date by demonstrating how current global food systems undermine the world's ability to provide sufficient, safe, and nutritious food for everyone. Timely, sophisticated, and necessary, Food Security explains how this leaves all of us more vulnerable and offers important ideas for what to do about it." Paul Wapner, associate professor and director of the Global Environmental Politics Program at the American University "Bryan McDonald must be read if one wants to understand the complexity of the global food system and its sweeping impacts on human security." Erika Weinthal, Duke University "McDonald breaks free of the disciplinary and sectoral shackles that so commonly plague analyses of key global challenges like food security. His explicit integrated approach to impacts and implications for food security makes this contribution more robust and more useful to a wider set of actors." Geoff Dabelko, Woodrow Wilson International Center for Scholars "Bryan McDonald's excellent narrative of how global changes are impacting food security provides a valuable addition to better understanding the larger changes in the nature of security, and offers wise guidance for improving food security." Kenneth Rutherford, director of the Center for International Stabilization and Recovery and professor of political science at James Madison University
Bryan L. McDonald is Assistant Professor of Science, Technology and Society at Pennsylvania State University.
Inhaltsangabe
Acknowledgements
Abbreviations
Introduction: Twenty-first Century Challenges to Food Security
Food Security and the Global Food System
From Local to Global: Shifts in World Food Systems
Global Trends Impacting Food Security
Ensuring Proper Nutrition: The Challenge of Malnutrition in an Era of Global Change
Managing Global Environmental Change: The Environmental Impacts of Agriculture and Food Production
Optimizing Food Safety: Threats to Health and Food Security from Disease, Contamination and Biological Weapons
Conclusion: Sustainable Food Security
References
Index