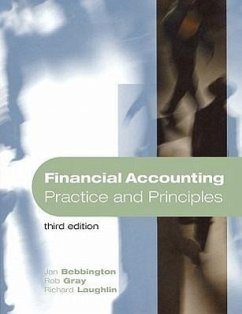 Financial Accounting: Practice and Principles
Broschiertes Buch
Sprache: Englisch
versandkostenfrei

innerhalb Deutschlands

Versandfertig in über 4 Wochen

Alle Preise inkl. MwSt.
Andere Kunden interessierten sich auch für
Financial Accounting: Practice and Principles
The successful systems based formula for teaching financial accounting that gained such academic acclaim in its first and second editions, is back! Financial Accounting remains the student's favourite! The third edition is more streamlined, more user friendly and even more accessible. An in-depth, worked example from an actual partnership, brings alive for students the accounting issues involved in partnerships, a required topic of accreditation. Financial Accounting is based on a threefold approach: an organizational flow-model is used to locate financial accounting in its organizational context; this model is then used to derive a systematic logical approach to financial accounting and the construction of the financial statements; and the text attempts to forge a firm link between the traditional diet of introductory financial accounting and the wider issues of accounting theory. Financial Accounting is the ideal text for undergraduate Accounting students.
Produktinformation
---
Verlag: CENGAGE LEARNING
2001
Seitenzahl: 456
Englisch
Abmessung: 251mm x 183mm x 26mm
Gewicht: 885g
ISBN-13: 9781861527714
ISBN-10: 1861527713
Best.Nr.: 21736192
Inhaltsangabe
Part One. 1. What is Accounting? And Why Study it Anyway? 2. Cash
Cashbooks and Units of Account. 3. Organizations
Organizational Subsystems and the Flows of Double Entry Bookkeeping. Part Two. 4. Organizational Flows
A Categorization of Basic Transactions
Accounting records and Double-Entry Bookkeeping. 5. Putting the Eight Basic Transactions to work
Producing the Accounting Records and an Initial Trial Balance. 6. The Accounting Information System: Organizing and Controlling the Accounting Records. 7. The Trial Balance and Categorization: The Accounting Conventions
Assets
Liabilities
Revenues
Expenses
Provisions and Reserves. Part Three. 8. Accruals
Prepayments and general Provisions and an Introduction to the Production and Format of the Profit and Loss Account and Balance Sheet. 9. Depreciation of Fixed Assets and Losses on Disposal. 10. Stock Allocation
Valuation and the Cost of Sales. 11. Bad and Doubtful Debts (and another Look at Provisions). 12. From the Trial Balance to the Financial Statements: Ownership Claims
Profit
Appropriations and Social Reality. 13. Partnerships. 14. Accounting Regulation and Company Accounts. Part Four. 15. Reading the Financial Statements and Annual Report: Cash Flow Analysis and Interpreting Financial Numbers. 16. Accounting for Changing Prices: An Introduction. 17. Expanding the Reporting Function: Social and Environmental Accounting Reporting. 18. Thinking about Accounting: Theoretical Perspectives on Financial Accounting and Reporting. Part Five. 19. Where Have we Been? Where Do We Go Next?