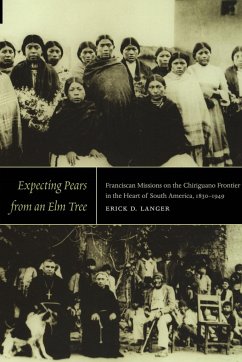 Expecting Pears Form an ELM -P
Broschiertes Buch
Sprache: Englisch
versandkostenfrei

innerhalb Deutschlands

Versandfertig in über 4 Wochen

Alle Preise inkl. MwSt.
Andere Kunden interessierten sich auch für
Expecting Pears Form an ELM -P
Analyzes one of the most important Catholic mission systems in republican-era Latin America, the Franciscan missions among the Chiriguano Indians in Bolivia, as a model for the study of a postcolonial missions system, focusing on the struggle of the Chrig
Produktinformation
---
Verlag: DUKE UNIV PR
2009
Seitenzahl: 392
Englisch
Abmessung: 238mm x 156mm x 32mm
Gewicht: 550g
ISBN-13: 9780822345046
ISBN-10: 0822345048
Best.Nr.: 26551721
"Expecting Pears from an Elm Tree is a superb book. Erick D. Langer departs from previous historical work with his portrayals of the mission life cycle (which no future historian writing on the topic will be able to ignore); missions in the republican period; the Bolivian Chaco; the frontier as a permeable, advancing and contracting concept, rather than a bright line; and the ethno-history of the Chirguano, from autonomy to dependence." David Block, author of Mission Culture on the Upper Amazon: Native Tradition, Jesuit Enterprise, and Secular Policy in Moxos, 1660-1880 "Expecting Pears from an Elm Tree brings the republican-era Franciscan missions of the Chiriguano of southeastern Bolivia into the center of frontier history. Erick D. Langer integrates the empirical data from numerous archives into cultural frameworks in ways that create a powerful narrative of ethnogenesis in the 'fields of interaction' that emerged from the institutional mission."--Cynthia Radding, author of Wandering Peoples: Colonialism, Ethnic Spaces, and Ecological Frontiers in Northwestern Mexico, 1700-1850
Erick D. Langer is Professor of History and core faculty at the Edmund A. Walsh School of Foreign Service at Georgetown University. He is the author of "Economic Change and Rural Resistance in Southern Bolivia, 1880-1930"; editor of "Contemporary Indigenous Movements in Latin America"; and co-editor of "The New Latin American Mission History."
Inhaltsangabe
Contents
Illustrations
Tables
Acknowledgments Introduction
1. The "Chiriguano Wars": Indian Warfare and the Establishment of the Missions
2. The Franciscans
3. Death and Migration: The Population Decline of the Missions
4. Daily Life and the Development of Mission Culture
5. Conversion, Chiefs, and Rebellions: Relationships of Power on the Missions
6. Missions and the Frontier Economy
7. Outside Relations and the Decline of the Missions
8. From the Chaco War to Secularization, 1932-1949
9. Comparisons Appendix: The Inauguration of Tiguipa Church (1902)
Glossary
Notes
Bibliography
Index